AUGUST 31: The Kings have officially signed Lawson, the team announced today in a press release. According to a report from CSNCalifornia.com, the point guard's one-year deal isn't guaranteed, so the team won't be on the hook for his full salary if he's cut before January 10.
AUGUST 28: The Kings have reached an agreement with free agent point guard Ty Lawson, reports Adrian Wojnarowski of The Vertical (via Twitter). According to Wojnarowski, Sacramento is signing Lawson to a one-year contract for the coming season.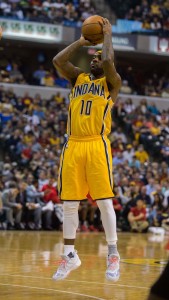 Lawson visited the Kings on Saturday and ultimately decided to sign with the team despite having also received "serious interest" from the Pelicans, tweets Wojnarowski. The 28-year-old has seen his career trajectory change significantly within the last couple years, after he was arrested multiple times on DUI charges and spent time in rehab.
A 2009 first-round pick, Lawson became the Nuggets' full-time starting point guard during the 2011/12 season, and averaged 16.4 PPG to go along with 8.0 APG over the next four years. However, Denver sent him to the Rockets last July, and Houston subsequently waived him. Over the course of the 2015/16 season, Lawson appeared in 66 total regular-season games, averaging 5.7 PPG and 3.6 APG in part-time roles for the Rockets and the Pacers, who signed him late in the season.
[RELATED: Sacramento Kings' depth chart at RosterResource.com]
The Kings had been on the lookout for point guard help this offseason, having lost Rajon Rondo in free agency. Rondo's departure left Darren Collison as the team's de facto starter at the point, but Collison is facing domestic violence charges, which could eventually lead to a suspension depending on how the case plays out.
While Sacramento added Garrett Temple in free agency and Isaiah Cousins in the draft, Temple is more of a combo guard than a pure point guard, and Cousins was a late second-rounder who has yet to sign a contract.
The terms of Lawson's contract aren't yet known. Sacramento doesn't have any cap room left, but the team has yet to use its $2.898MM room exception. So the veteran point guard could either get a minimum-salary deal or something slightly larger, if the Kings dip into that room exception.
Photo courtesy of USA Today Sports Images.