AUGUST 23, 2:25pm: Brown's new representatives are shopping their client overseas, seeking a deal in the $300K range, according to international basketball journalist David Pick (Twitter link). Brown's minimum NBA salary would be in the $1.55MM range, but as I noted below, Brown's long layoff – combined with the fact that most teams already have 15 or more players – makes an NBA deal a long shot.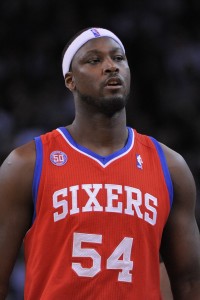 AUGUST 22, 12:35pm: Fifteen years after he was selected with the first overall pick in the 2001 NBA draft, and more than three years after he played his last game in the league, Kwame Brown is attempting to make a comeback. Interperformances announced today on its website that the agency now represents Brown, the former No. 1 pick.
"[Brown] is ready for a new life," Interperformances wrote in a statement. "His comeback can be the road to glory for a team that believes in him. Kwame is back, physically healthy and ready to be the outstanding player he was on several NBA teams. … No longer the young man that entered the NBA, Kwame is now an experienced and mature player and man. And he's back, for the love of the game."
Brown, who is now 34 years old, last played for the Sixers during the 2012/13 season, and hasn't played major minutes since he was a member of the Charlotte Bobcats in 2010/11. In 607 career NBA games, Brown averaged 6.6 PPG and 5.5 RPG, shooting 49.2% from the field. While he was a decent role player for a few seasons, he's widely considered one of the biggest busts for a first overall pick in recent history.
It seems unlikely that many NBA teams would be eager to take a flier on Brown at this point, particularly since many clubs already have 14 or 15 players with guaranteed contracts and would prefer to use any remaining offseason roster spots on young players willing to join D-League affiliates. Still, if Brown is returning "for the love of the game" and can't find an NBA home, perhaps he'll seek a job with a team in Europe or Asia.