With training camps fast approaching, only one restricted free agent remains on the market. Veteran forward Donatas Motiejunas still has a qualifying offer on the table from the Rockets, but has yet to receive a satisfactory multiyear offer from the team, or from a rival suitor.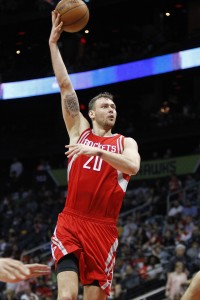 Although Motiejunas struggled to stay healthy in 2015/16 and his production took a significant hit, he looked like a player on the rise in 2014/15, when he averaged 12.0 PPG and 5.9 RPG to go along with a .504 FG% and a .368 3PT%. He started 62 games for the Rockets that season.
Motiejunas received a qualifying offer worth $4,433,683 from the Rockets this summer, which gives Houston the right of first refusal, preventing the forward from signing outright with another club. The Lithuanian big man, who turns 26 next Tuesday, could sign that one-year qualifying offer and become an unrestricted free agent next summer, but he would likely prefer some longer-term security and a bigger payday.
Earlier this week, Motiejunas' agent B.J. Armstrong publicly expressed some concern with the situation, telling Calvin Watkins of ESPN.com that the Rockets have yet to make a serious contract offer for his client. According to Armstrong, October 1 will be the moment of truth for the Rockets and Motiejunas, with resolution expected to come by that point.
October 1 is the deadline for Motiejunas to accept his qualifying offer. After that point, the QO expires and he remains a restricted free agent, but he's not longer able to sign that $4.434MM offer that was on the table for the previous three months. So if the Rockets still haven't made a contract offer he likes by that point, he'll likely take the QO and focus on unrestricted free agency in 2017.
Still, the Rockets have some incentive to get a longer-term deal done with Motiejunas. In addition to securing a solid young player for more than just one year, signing Motiejunas to a multiyear deal would also allow the team to explore trading him at this year's deadline. If he accepts his QO, he has the ability to veto trades for the entire 2016/17 league year. Considering GM Daryl Morey nearly traded Motiejunas to the Pistons at the 2016 deadline, maintaining that flexibility could be important.
While Motijunas figures to return to the Rockets, it's also possible that another team steps in at the 11th hour and puts a competitive offer sheet on the table for the former first-round pick. The Nets, Nuggets, Timberwolves, Sixers, Suns, and Jazz are all under the salary floor and would have more than enough room to accommodate such an offer.
How do you expect this situation to play out? Will the Rockets eventually relent and offer Motiejunas a satisfactory two- or three-year deal? Will he end up signing his qualifying offer instead? Will another team swoop in with an offer sheet? If so, which club would be the best fit for the RFA forward?
Take to the comments section below to share your opinions on the NBA's last remaining restricted free agent in 2016. We look forward to hearing your thoughts.
Photo courtesy of USA Today Sports Images.