SEPTEMBER 14th: The signing is official, the team announced.
SEPTEMBER 13th: After finishing the 2015/16 season with the Grizzlies, veteran guard Jordan Farmar will reunite with head coach Dave Joerger in Sacramento. According to international basketball reporter David Pick (via Twitter), Farmer has agreed to sign with the Kings, who are now being coached by Joerger.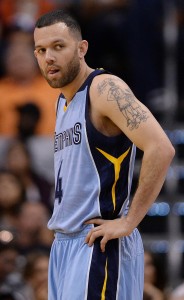 Farmar, who will turn 30 in November, has played more than 500 regular-season games over the course of his nine-year NBA career, though he appeared in just 12 games last season. Farmar joined the Grizzlies in March when Memphis' roster was hit hardest by injuries, and was the club's starting point guard down the stretch and in the postseason.
Farmar played well in the regular season with the Grizzlies, averaging 9.2 PPG, 3.1 APG, 1.3 SPG, and 1.3 3PT. However, his production dipped in the playoffs, as he shot just 32.3% from the floor during the club's first-round loss to San Antonio.
Having lost Rajon Rondo in free agency, and facing the possibility of a Darren Collison suspension, Sacramento has made an effort to add some point guard depth to the roster. In addition to bringing in Farmar, the Kings also recently signed Ty Lawson.
The Kings currently have 14 guaranteed salaries on their books for the 2016/17 season, and that total doesn't include Lawson's non-guaranteed deal, so it's not clear yet whether there will be room on the 15-man regular-season roster for Farmar. The ex-Laker, who played his college ball at UCLA, has spent time playing in Israel and Turkey in past seasons, so he may head back overseas if things don't work out in Sacramento.
Photo courtesy of USA Today Sports Images.