SEPTEMBER 23rd: The signing is official, the team announced.
SEPTEMBER 21st, 2:09pm: World Peace's deal with the Lakers will be non-guaranteed, tweets Eric Pincus of Basketball Insiders. Meanwhile, the veteran forward tells Mike Bresnahan of TWC SportsNet (Twitter link) that he's "very excited" about rejoining the Lakers and heading to training camp next week. He also confirms that he's signing a one-year, non-guaranteed pact (Twitter link).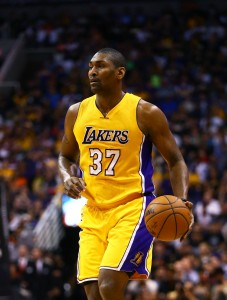 1:26pm: The Lakers have struck a deal to re-sign veteran free agent Metta World Peace, according to Shams Charania of The Vertical (via Twitter). While specific details of the agreement have not yet been reported, a one-year, minimum-salary pact seems likely for World Peace.
Although he'll turn 37 this November, World Peace had indicated last month that he "absolutely" intended to continue his NBA playing career. "I'm waiting for teams. I can still play. I can play, it's not even a question, man," World Peace said at the time. "But, you know, sometimes you don't get in the game, man. What are you going to do? I'm not going to be upset, I'm going to support. So if I don't play, like this year on the Lakers I could have averaged 15 or 20 on the Lakers if I played, easily. But you know, I'll be supportive [if I don't play]."
Averaging 16.9 minutes per game in 35 contests for the Lakers last season, World Peace fell well short of the "15 or 20" points per game he thought he could have scored with more playing time. For the year, he shot a career-low 31.1% from the floor en route to averaging just 5.0 PPG and 2.5 RPG.
Byron Scott, the head coach of the 2015/16 Lakers, seemed somewhat resistant to giving big minutes to his young players, which opened the door for veterans like World Peace to get some playing time. It's unclear whether new coach Luke Walton will give his former teammate that same opportunity.
The man formerly known as Ron Artest may not even be assured of a roster spot in Los Angeles. The team is currently carrying 14 players on fully guaranteed contracts, with Yi Jianlian – who has a partially guaranteed deal that's heavy on incentives – also expected to make the regular-season roster. If World Peace makes the team, it's possible he'll get Nick Young's spot, since Young has long been considered a release candidate for the Lakers.
Photo courtesy of USA Today Sports Images.