Paul Pierce will return to the Clippers for the 2016/17 season, but he'll call it a career at season's end, he announced today in a story for The Players' Tribune. "This is it, my final season," Pierce writes at the start his piece. "It's time to move on from the game of basketball."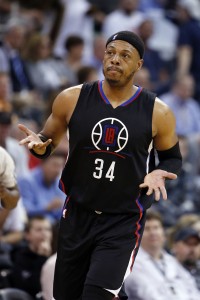 "Just like any difficult decision, I think you've got to be at peace with yourself," Pierce writes. "I'm at peace with retiring, but I've got one more ride left. One more season. One more opportunity. With the Clippers, in the city where I grew up, I feel like I have that opportunity on a great team. We're hungry. We want to win a championship."
Pierce, who turns 39 next month, entered the NBA back in 1998 as the 10th overall pick. After spending 15 seasons in Boston, which included a championship and 10 All-Star appearances, Pierce has bounced around between a few teams in recent years, playing for the Nets, Wizards, and Clippers. For his career, he has averaged an even 20.0 PPG to go along with 5.7 RPG, 3.6 APG, and 1.3 SPG in 1,318 regular-season contests. He has also appeared in 163 postseason contests, averaging 19.4 PPG in those games.
There had been some uncertainty this summer as to whether Pierce would even return for the 2016/17 campaign. The decision was described as a 50-50 one earlier in the offseason, though multiple reports in recent months indicated that the veteran forward was leaning toward playing. Pierce's deal with the Clippers calls for a guaranteed salary worth $3,527,920 this season. He's also under contract for the 2017/18 league year, but his salary is only partially guaranteed for about $1.1MM.
With Pierce returning to the mix for the upcoming season, the Clippers have 15 players on guaranteed contracts on their cap, meaning it will be an uphill battle for camp invitees like Dorell Wright and Xavier Munford to earn a spot on the team's regular-season roster.
Photo courtesy of USA Today Sports Images.