The Raptors have locked up their team president and their primary basketball decision-maker for a few more years, the team announced today in a press release. Masai Ujiri, who had two years remaining on his previous contract, has signed a multiyear extension with Toronto, according to the announcement.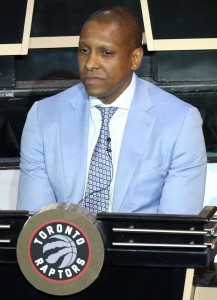 In addition to Ujiri's extension, the Raptors also confirmed a couple other pieces of front-office news, announcing that Jeff Weltman has been promoted to general manager, while Bobby Webster will get a new title of assistant GM/VP basketball strategy.
"I am grateful to the Board and Mr. [Larry] Tanenbaum for the opportunity to continue our progress to build the Raptors into one of the top franchises in the NBA," Ujiri said in a statement. "I'm also excited that Jeff and Bobby are being rewarded for their hard work and valuable contributions to our program. My family thanks the NBA, Raptors players and coaches, staff, Raptors fans, the city of Toronto and Canada for this opportunity. Toronto is home for us."
Ujiri, who was named the Raptors' president and general manager back on May 31, 2013, has helped lead the franchise to three consecutive playoff berths, and has overseen the best stretch in franchise history. After failing to top 47 wins in their first 18 years of existence, the Raptors have established a new high in wins in a season for three straight years — the team won 48 games in 2013/14, 49 in 2014/15, and 56 last season. Toronto also earned a spot in the Eastern Conference Finals this past season, after having never previously won a seven-game playoff series.
Under Ujiri's watch, the Raptors have turned into a contender in the East while also continuing to develop young talent. Bruno Caboclo, Lucas Nogueira, Delon Wright, Jakob Poeltl, and Pascal Siakam are all currently on rookie contracts. Toronto has also retained draftees such as DeMar DeRozan, Jonas Valanciunas, and Terrence Ross with long-term deals, while adding players like DeMarre Carroll and Cory Joseph in free agency.
An ESPN report last month first indicated that the Raptors and Ujiri were discussing an extension.
Photo courtesy of USA Today Sports Images.