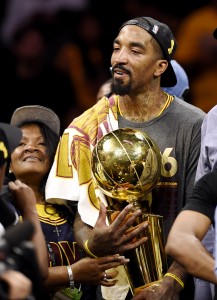 SATURDAY, 11:37am: The Cavs officially announced the signing, as well as that guard Toney Douglas has been waived to clear a spot for Smith.
FRIDAY, 9:14pm: The fourth year of Smith's deal is non-guaranteed, Stein relays (Twitter links). However, a full guarantee will kick in if he remains on the roster after the 2018/19 campaign comes to a close, the scribe adds. The guard will earn $45MM during the first three years of the pact, according to Stein.

8:18pm: According to Stein (Twitter link), a hard push from Sixers GM Bryan Colangelo to ink Smith is was spurred Cleveland to up its offer to the guard.
7:29pm: The Cavs and unrestricted free agent J.R. Smith have finally ended their stalemate, with the shooting guard agreeing to a new contract with the team, Marc Stein of ESPN.com reports (via Twitter). It will be a four-year, $57MM arrangement, according to the scribe. There is no word yet if the agreement includes any options (player or team), nor if the entire pact is fully guaranteed.
Smith had been reportedly seeking an annual salary of $15MM, while the Cavs reportedly preferred to sign him to a contract in the $10MM to $12MM range. In the end, Smith will receive an average annual salary of $14MM, per the terms Stein relayed.
It was surprising that negotiations lasted this long between the two sides given their mutual desire to keep the relationship going. The Celtics reportedly had serious interest in signing Smith, though Boston wouldn't have been able to offer Smith a salary starting more than $9MM unless they made a trade to clear cap space. The possibility of Smith signing elsewhere, which likely would have upset superstar LeBron James, may have played a factor in Cleveland upping its offer. Though, that is merely speculation on my part.
The 31-year-old started a career-high 77 games for the Cavs during the 2015/16 season, and also started all 21 of the team's playoff games. During the season, he averaged 12.4 PPG and shot 40.0% from long distance, making 2.6 threes per game.
Photo courtesy of USA Today Sports Images.