SUNDAY, 9:03am: The Sixers have released Brand, tweets Derek Bodner of PhillyMag.
THURSDAY, 12:14pm: After signing a new contract with the Sixers during the offseason, Elton Brand appeared ready to extend his NBA career at least one more year. However, the former first overall pick changed his course, announcing today that he'll be retiring from the game (Twitter link via Jessica Camerato of CSNPhilly.com).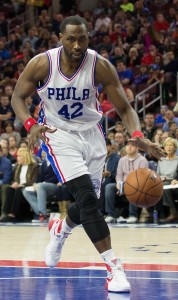 "After 17 years of playing the game that I love – and it's been great to me – I'm officially retiring," Brand told reporters today.
Brand previously announced his retirement from the NBA back in 2015, but decided to make a comeback with the Sixers during the 2015/16 season. When he made his announcement today, he asserted that his retirement is "for real this time."
The No. 1 overall pick by the Bulls in the 1999 draft, Brand averaged over 20 points per game in his rookie season, then reached that mark in five more seasons over the course of his career. A two-time All-Star with the Clippers, Brand spent time in Chicago, Los Angeles, Philadelphia, Dallas, and Atlanta during his 17-year career, finishing with averages of 15.9 PPG, 8.5 RPG, 2.1 APG, and 1.7 BPG in 1,058 total regular season contests.
Brand's minimum-salary contract with the Sixers for the 2016/17 season was partially guaranteed for $1MM, and he'll likely receive that money. Philadelphia remains well below the salary floor, so there's little reason for the club to quibble over that payout, particularly if the two sides intend to continue their relationship into the next phase of Brand's career.
As Camerato tweets, Brand said today that he'll take some time off before deciding on what his next step will be. Keith Pompey of The Philadelphia Inquirer (Twitter link) had speculated earlier today, prior to Brand's announcement, that a role in the 76ers' front office could be in the big man's future.
With Brand no longer in the mix as a player, the Sixers will have one less decision to make as they cut down their roster to 15 players for the regular season. The team currently has 11 players on guaranteed salaries, with eight (plus Brand) on non-guaranteed or partially guaranteed deals.
Photo courtesy of USA Today Sports Images.