4:58pm: The Hawks have issued a press release officially confirming Schroder's extension.
"I am excited to sign this long-term deal with the Hawks. Since coming from Germany as a rookie, this organization and the entire city of Atlanta has embraced me and watched me grow," Schroder said in a statement. "I would like to thank my teammates, the coaching staff and the front office for having faith in me. I'm determined to keep improving as a player and I believe that our team has a chance to accomplish some special things together."
4:16pm: Schroder's new deal will include $62MM in guaranteed money over the next four years, according to ESPN's Marc Stein (via Twitter). Based on the original report of $70MM, it appears that a portion of the total salary will either be non-guaranteed or available via incentives.
3:09pm: Dennis Schroder will be taking over as the Hawks' full-time starting point guard this season, and the team has now ensured he'll remain in Atlanta for several more years beyond that. According to Marc Stein and Zach Lowe of ESPN.com, Schroder and the Hawks have reached an agreement on a four-year, $70MM contract extension. Schroder confirmed the deal, tweeting out a photo that shows him signing his new pact.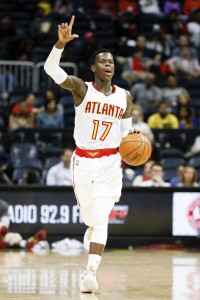 Schroder has gradually taking on a larger role over the course of his three seasons with the Hawks, having seen his minutes per game increase from 13.1 in his rookie season to 20.3 in 2015/16. Last season, he established new career highs in PPG (11.0), APG (4.4), RPG (2.6), SPG (0.9), and several other categories.
During the summer, the Hawks agreed to a three-way trade that sent starting point guard Jeff Teague to the Pacers, opening the door for Schroder to take on a larger role in Atlanta. Both players had been set to enter contract years, but Schroder is younger and is still on his rookie contract, making him the more appealing option for the long term.
Schroder will earn a modest $2,708,582 salary in 2016/17, but rather than being eligible for restricted free agency next summer, he'll now move on to his second contract, with his extension going into effect in July 2017. Assuming there are no options on the deal, it will keep the 23-year-old under team control through the 2020/21 season.
We'll have to wait for the exact terms and details on Schroder's new deal to properly evaluate it, but it looks awfully similar to the ones signed by a pair of free agent wings this summer — Evan Turner inked a four-year, $70MM contract with the Trail Blazers, while Schroder's teammate Kent Bazemore got a four-year, $70MM deal from the Hawks, as our free agent tracker shows.
Although there's some uncertainty about how the NBA's Collective Bargaining Agreement will look next summer if and when the league and the NBPA reach a new agreement, that hasn't stopped extension-eligible players from signing new deals early — Schroder becomes the third player eligible for a rookie-scale extension to agree to terms with his team so far this offseason, just five days before the October 31 deadline. Previously, C.J. McCollum signed a four-year, $106MM+ extension with the Blazers, and Giannis Antetokounmpo agreed to a four-year, $100MM deal with the Bucks.
Earlier today, Schroder headlined our list of five rookie-scale extension candidates to watch before Monday's deadline, so we'll see if others on that list – such as Rudy Gobert, Steven Adams, and Gorgui Dieng – can reach agreements with their respective clubs as well.
Photo courtesy of USA Today Sports Images.