Over the next several weeks, Hoops Rumors is breaking down the 2016 offseason for all 30 NBA teams, revisiting the summer's free agent signings, trades, draft picks, departures, and more. We'll evaluate each team's moves from the last several months and look ahead to what the 2016/17 season holds for all 30 franchises. Today, we're focusing on the Miami Heat.
Free agent signings:
Camp invitees:
Trades:
Acquired Luke Babbitt from the Pelicans in exchange for the Pelicans' own 2018 second-round pick (previously traded to Miami) and cash.
Draft picks:
Departing players:
Other offseason news:
---
Check out our salary cap snapshot for the Miami Heat right here.
---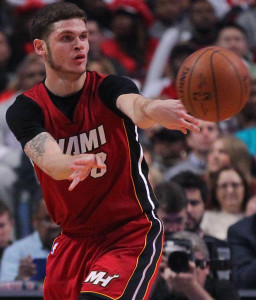 When LeBron James returned home to Cleveland two summers ago, the Heat moved on to Plan B, which was to rebuild a title contender around Dwyane Wade and Chris Bosh.
Now it's time for Plan C.
Wade, the cornerstone of the franchise for the past 13 years, signed with the Bulls in July after a contract dispute. Bosh faces an uncertain future after failing his training camp physical because of a lingering problem with blood clots. The Heat underwent a massive roster overhaul during the summer and now seem like fringe playoff contenders in the Eastern Conference.
Free agency got off to a great start for Miami, as center Hassan Whiteside opted in the early-morning hours of July 1st to remain with the Heat. Miami didn't have Bird rights on Whiteside, who met with Dallas and had a session scheduled with Portland before making his decision. After being out of the NBA for two seasons, Whiteside signed with Miami in November of 2014 and quickly developed into a defensive force. He led the league in blocked shots by a wide margin last season with 3.68 per game, along with 14.2 points and 11.8 rebounds.
Whiteside's new maximum-salary deal paved the way for Wade's decision to leave Miami. Wade was angry that the Heat weren't willing to give him a max offer as well, considering that he accepted less than his market value for years to give the franchise enough cap room to bring in James and Bosh. As negotiations with Miami deteriorated in early July, Wade accepted a two-year, $47MM offer from Chicago. His departure not only created a hole in the lineup at shooting guard, it left the psychological scar of losing the most accomplished player in franchise history.
That feeling was compounded last month when Bosh, the only remaining member of the Big Three, was unable to pass a physical administered before the start of training camp. Bosh, who has seen his past two seasons cut short by blood clots, had worked throughout the offseason to prepare for camp and had proposed taking a new medication that would be out of his system by game time. However, the Heat's reluctance to accept that plan combined with his lack of medical clearance probably means that Bosh has played his last game for the franchise.
The other defining event of Miami's offseason was a four-year, $50MM offer sheet the Nets extended to backup guard Tyler Johnson. The contract was backloaded to make it difficult for the Heat to match, with annual salaries of $5.628MM, $5,881,260, $18,858,765 and $19,631,975. Miami decided to match anyway and made a slew of moves beforehand. In one day, the Heat added free agents Wayne Ellington, James Johnson and Willie Reed, swung a trade with the Pelicans for Luke Babbitt, re-signed veteran big man Udonis Haslem and then matched Johnson. It's up to the third-year guard to prove he can earn that big-money deal after playing just 36 games at the NBA level last season and averaging 8.7 points and 2.2 assists per night.
But the Heat weren't done adding free agents. They also signed Knicks forward Derrick Williams for one season at $4.598MM and Thunder shooting guard Dion Waiters for two years at $5.926MM with a player option on the second season. In addition, Miami re-signed veteran point guard Beno Udrih, who accepted a controversial buyout last season that helped the Heat escape luxury tax penalties. Udrih was waived Saturday, but still received a guaranteed veteran's minimum deal of $1.5MM, which was a nice reward for giving up $90K in the buyout. He has since been claimed off waivers by Detroit, which absolves the team of any cap hit.
After a summer of turnover, the Heat may not be done with roster moves. They were rumored to be discussing a deal with the Kings that would send Goran Dragic to Sacramento in exchange for Rudy Gay and Darren Collison. Gay has made it known that he plans to opt out of his contract next summer and end his relationship with the Kings, but he might be interested in a long-term future in South Florida.
Draft night was quiet in Miami as the Heat didn't have a pick in either round. Their first-rounder was shipped to Philadelphia, which used it to take Timothe Luwawu-Cabarrot at No. 24, and their second-rounder went to Boston, which selected Ben Bentil at No. 51.
After a seven-game loss to Toronto in the conference semifinals, the Heat entered the offseason hoping they could re-sign Whiteside to combine with Wade, Bosh and Dragic as the core of one of the East's best teams. But keeping their star center was about the only predictable thing that happened since last season ended. The roster overhaul saw veteran free agents Luol Deng, Joe Johnson, Amar'e Stoudemire and Gerald Green all leave town, forcing the Heat to start rebuilding around their young talent.
Now that the Big Three era is over in Miami, fans can expect change to continue. None of the five outside free agents the Heat brought in has a commitment beyond this season. That gives the team lots of flexibility for deals during the year and a chance to chase elite free agents next summer if Bosh's salary is cleared off the books. Regardless of this year's win-loss record, fans shouldn't get too comfortable with the current Heat roster. Chances are strong that it will look much different by next October.
Salary information from Basketball Insiders used in the creation of this post. Photo courtesy of USA Today Sports Images.