Over the next several weeks, Hoops Rumors will be breaking down the 2016 offseason for all 30 NBA teams, revisiting the summer's free agent signings, trades, draft picks, departures, and more. We'll evaluate each team's moves from the last several months and look ahead to what the 2016/17 season holds for all 30 franchises. Today, we're focusing on the New Orleans Pelicans.
Free agent signings:
Camp invitees:
Trades:
Draft picks:
1-6: Buddy Hield. Signed to rookie contract.
2-33: Cheick Diallo. Signed for three years, minimum salary. Third year partially guaranteed.
Departing players:
Other offseason news:
---
Check out our salary cap snapshot for the New Orleans Pelicans right here.
---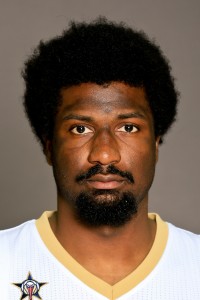 The Pelicans' 2015/16 campaign was a brutal one, with the team's players missing a total of 351 games due to illness or injury. That was the most in the past six NBA seasons and second-most in the past decade, resulting in the franchise using 42 different starting lineups. There aren't many teams that could weather that sort of personnel strife, so it's no surprise that New Orleans only won 30 games, finishing 12th in the Western Conference. The franchise entered the offseason with a number of decisions to make regarding the future, needing to do its best to maximize the talents of its young star Anthony Davis. and to surround him with the players necessary to achieve that goal.
New Orleans allowed Ryan Anderson and Eric Gordon to leave in free agency, with both players ending up in Houston, and added the likes of Solomon Hill, E'Twaun Moore, Langston Galloway and Terrence Jones. On paper, the Pelicans look worse on offense, with the loss of their two best three-point shooters in Gordon and Anderson. However, the team should improve on the defensive end thanks to the presence of Hill and Moore. It shouldn't take much for the Pelicans to make strides in that area, given that they ended last season ranked 28th overall in the league in defensive efficiency, surrendering a whopping 107.3 points per 100 possessions. The only two squads that were more porous were the Nets and Lakers.
Despite the loss of production from Anderson and Gordon, allowing them to depart was a wise move on the organization's part. Anderson will be missed the most, as his skillset is perfect for the direction the NBA is headed regarding how big men are used. But the 28-year-old has only averaged 60 games per season over the course of his career, and he isn't likely to grow more durable as he enters his 30s. Committing $20MM+ per season over four years would not have been a prudent move. Gordon has been even more brittle since entering the league, averaging just 52 contests each season.
The team's biggest external offseason move was inking Hill to a four-year, $48MM pact. I have to question the logic of New Orleans handing Hill a long-term deal with an average annual value of $12MM per season given his track record. The 26-year-old's best season came in 2014/15, when he averaged 8.9 points and 3.8 rebounds over 82 appearances for the Pacers. Last season, his minutes were sliced in half and he notched 4.2 PPG and 2.8 RPG in just 14.7 minutes per outing while connecting on 44.7% of his shots overall and 32.4% from beyond the arc. While he did provide a spark in small stretches for Indiana in 2015/16, his addition isn't something to get too excited over. Even in this new era of the expanded salary cap, this is a contract that has an extremely high probability of backfiring for the franchise. The Jazz, Grizzlies, Mavs and Bulls were all reportedly interested in Hill this summer, but I'm still surprised he was able to parlay a strong playoff showing into this contract.
I'm a bit more enthusiastic about the addition of Moore, who will never be a star in the league, but is a valuable rotation piece who can do a number of things well. He can play either guard spot, is a solid perimeter defender and can be effective shooting the ball from the outside. Moore's versatility will serve the Pelicans well, especially with the constant injury concerns the team seems to have, and he'll make a fine mentor for 2016 lottery pick Buddy Hield. While I don't necessarily like New Orleans giving him a four year pact, especially considering he has averaged just 57.5 games the past two seasons for the Bulls, I'd bet on Moore providing more value over the course of his deal than Hill will.
The two signings the Pelicans made that I like without any reservations are the additions of Langston Galloway (two years, $10.634MM) and Terrence Jones (one year, $980,431). Both deals carry very little risk and could pay off for the franchise. Galloway is a versatile player who can play multiple positions and provide solid depth for the team. He's averaged 9.1 PPG, 3.8 RPG and 2.8 APG in his two seasons in the league, and at 24 years of age, still has quite a bit of upside. He needs to improve his shooting, connecting on just 39.6% of his field goal attempts for his career, but he's a hard-worker and solid locker room presence who will strengthen the team's culture.
As for Jones, he desperately needed a change of scenery after never living up to his potential during his four seasons in Houston. He should garner more consistent playing time in New Orleans and could blossom into a solid rotational piece for the franchise. He's still a tweener without a defined position, with his outside shooting not necessarily making him a good fit as a stretch-four in a smaller lineup. But the 24-year-old should be plenty motivated to prove he belongs in the league this season, and there is absolutely no risk for the Pelicans in giving him a shot on a minimum salary deal. I expect a bounce back campaign from the former first-rounder as he is playing for his next contract, and perhaps, his NBA career.
Given its multiple roster holes, New Orleans needed a strong showing on draft night to have some hope for a turnaround. The team did extremely well, nabbing Hield with the No. 6 overall pick and acquiring the draft rights to Cheick Diallo (No. 33). Hield was one of the top players in college last season and he fits the Pelicans' roster perfectly. His outside shooting is sorely needed with the losses of Anderson and Gordon, and he's a player who can pair with Davis to form a solid young core for the franchise. Hield doesn't arrive without question marks, as there is concern among some scouts regarding his defense and ability to create his own shot at the NBA level. I'm a big fan of Hield and believe he will become a star in New Orleans. Snagging Diallo, who was a projected first-rounder in a number of mock drafts was a solid move. He is incredibly raw, but given his athleticism, high-motor and upside, the Pelicans landed an intriguing piece for the future.
Of course, the fate of the Pelicans rests on the shoulders (or knees, feet and ankles) of Davis, who is still under contract for four more seasons beyond this one. The big man's future earnings took a bit of a hit this past season, thanks to him not being named to the All-NBA third team. As a result, the Derrick Rose Rule won't apply to his max extension, costing him an extra $20MM+ over the life of his contract. The franchise needs to surround him with solid talent before Davis begins to get frustrated by all the losses and perhaps starts to contemplate heading elsewhere. It would also help the team's fortunes immensely if the 23-year-old can remain healthy, with Davis missing an average of 17 games per season since being selected No. 1 overall in the 2012 NBA Draft.
The Pelicans aren't off to a great start in 2016/17, with Tyreke Evans and Quincy Pondexter expected to be out of action until mid-December, Jrue Holiday out indefinitely due to family reasons and Davis already nursing a sprained ankle. Despite all that, it is difficult to imagine the team being hit as hard by injuries as it was in 2015/16. By virtue of that alone the team should be more competitive this season. Plus, the new additions should provide coach Alvin Gentry with greater flexibility to weather those losses and implement a system that will take advantage of his roster's strengths. I don't expect the Pelicans to make the playoffs this season, especially with the loss of scoring this offseason. But the franchise appears headed in a better direction than a season ago, though the contracts of Hill and Moore may prove to be problematic in the coming years.
Salary information from Basketball Insiders used in the creation of this post. Photo courtesy of USA Today Sports Images.