Over the next several weeks, Hoops Rumors will be breaking down the 2016 offseason for all 30 NBA teams, revisiting the summer's free agent signings, trades, draft picks, departures, and more. We'll evaluate each team's moves from the last several months and look ahead to what the 2016/17 season holds for all 30 franchises. Today, we're focusing on the Portland Trail Blazers.
Free agent signings:
Camp invitees:
Extensions:
Trades:
Draft picks:
Departing players:
Other offseason news:
---
Check out our salary cap snapshot for the Portland Trail Blazers right here.
---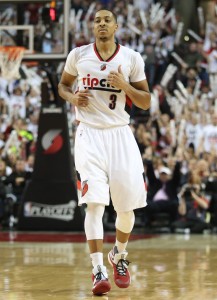 The Trail Blazers entered the summer with plans to throw big money at free agents. And that's what they did, even though it didn't get them any of their top choices.
Portland offered a max contract to Chandler Parsons and pursued both Hassan Whiteside and Pau Gasol before they all signed elsewhere. Spurned by their first targets, the Blazers used their ample cap space to give Evan Turner $70MM over four years and Festus Ezeli more than $15MM for two years. They also matched Brooklyn's shocking four-year, $74.833MM offer to Allen Crabbe and handed out nice raises to Meyers Leonard and Maurice Harkless.
All those players should be part of this season's rotation for Portland, which was one of the surprise teams of 2015/16. After losing 80% of their starting roster from the previous year, the Blazers scratched out 44 regular season wins, finished fifth in the West and surprised the Clippers in the first round of the playoffs.
Portland's most significant move of the summer may have been the four-year rookie scale extension the team gave to C.J. McCollum, who was the NBA's Most Improved Player last season. After Wesley Matthews left for Dallas, McCollum took full advantage of the chance to become a starter in his third NBA season, raising his scoring average from 6.8 to 20.8 points per game.
McCollum teams with Damian Lillard to form a young, dynamic backcourt that is the foundation of Portland's continued success. The addition of Turner, who averaged 10.0 points and 5.0 assists during his two years in Boston, gives the Blazers another guard who can handle the ball, which allows Lillard more leeway to be used as a spot-up shooter.
On the wing, Crabbe will face pressure to justify his gigantic new contract. He emerged as a key reserve for the Blazers in his third NBA season, averaging 10.3 points and 2.7 rebounds in 81 games, but he must guard against letting the high salary influence the way he plays. Crabbe and Turner will compete for minutes with Maurice Harkless, who became a starter late last season and into the playoffs. The Blazers thought enough of Harkless' contributions to re-sign him for $40MM over four years.
The battle for playing time is even more muddled up front as Ezeli was brought in to join a crowded group that includes Ed Davis, Al-Farouq Aminu and Mason Plumlee, along with Leonard, who re-signed for four years at $41MM. However, Ezeli may not be available for a while because of soreness in his left knee. He received an injection of bone marrow aspirate concentrate on August 23rd and was projected to be out of action for six weeks. But that time frame has passed and he still hasn't been able to take the court. The Blazers won't take a major financial hit if he's out for a long time because of his low signing price and because they own a team option on the second season of his deal, but the team could use his skills as a rim protector.
For now, that job falls solely to Plumlee, who averaged a block per game last season. The Blazers are facing a major decision on the fourth-year center, who is eligible for a rookie contract extension through the end of the month. Plumlee started all 82 games last year and averaged 9.1 points and 7.7 rebounds per night in his first season in Portland after being acquired in a trade with Brooklyn.
The Blazers would like to see more offensive production out of Plumlee, who says he spent all summer working on his shot. It may give him the confidence to shoot more than the 6.3 times per game he averaged last season. "He was important to us last year," said head coach Terry Stotts. "His ability to be a playmaker will not be diminished. You can't have too many playmakers on the court. The more guys that can dribble, pass and shoot, it just makes you a better team offensively."
It seems a good bet that the Portland front office will work out an extension with Plumlee, whether it happens this month or next summer.
The Blazers were relatively quiet on draft night, with their first-rounder going to Denver as part of the 2015 Arron Afflalo trade. Portland swung a deal with the Magic, acquiring No. 47 pick Jake Layman in exchange for a 2019 second-round pick and cash. The former Maryland small forward may see a lot of time in the D-League this season. In addition, point guard Shabazz Napier was acquired from Orlando in July in exchange for cash considerations.
Portland enters 2016/17 with a lot more roster certainty than it had a year ago. All the elements that made the Blazers successful last season are still in place, and the addition of Turner will give Stotts much more flexibility in devising lineup combinations. Portland may have missed out on its primary targets this offseason, but it still has enough talent in place to be a major player in the West for years to come.
Salary information from Basketball Insiders used in the creation of this post. Photo courtesy of USA Today Sports Images.