3:22pm: The Nets have officially re-signed Ferrell, the team announced this afternoon in a press release. According to international basketball journalist David Pick (via Twitter), the rookie will get a two-year deal — details on a potential guarantee aren't yet known.
12:34pm: The Nets are making a roster move at point guard, according to Adrian Wojnarowski of The Vertical, who reports (via Twitter) that the team is re-signing Yogi Ferrell and waiving Greivis Vasquez. Brooklyn's roster count will remain at 15 players when the pair of moves becomes official. For now, Vasquez's release is official, having been announced by the club in a press release.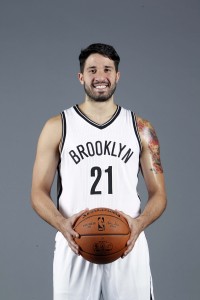 Vasquez, who will turn 30 in January, signed a one-year contract with the Nets this summer as an unrestricted free agent, but has only appeared in three games for the team due to an ankle injury. According to Wojnarowski, that ankle injury will require surgery, so Brooklyn likely felt the need to add some immediate help at the point guard spot, where Jeremy Lin is also sidelined.
"Greivis did everything we asked of him and more to try to get back on the court at full strength," said Nets GM Sean Marks said in a statement issued by the team. "The passion, grit and perseverance he has shown since he joined the team have been remarkable. We are thankful to Greivis for all of his efforts and wish him well in the future."
While Vasquez will become a free agent later this week, he'll continue to receive pay checks from the Nets, since his deal with the team was fully guaranteed. The veteran point guard will count for $4,347,826 against Brooklyn's cap this season, but the club can afford to eat that money — total team payroll will remain in the $76MM range after Ferrell's signing, which is still well below the 2016/17 salary floor.
As for Ferrell he signed with the Nets this summer as an undrafted free agent, but was waived by the club last month. A starter for the entire course of his college career at Indiana, Ferrell averaged 17.3 points, 5.6 assists and 1.1 steals per game in his senior season. During the preseason, the 23-year-old played sparingly for the Nets, appearing in three exhibition games and getting on the floor for a total of 28 minutes in those contests.
Ferrell had joined the Long Island Nets, so his signing represents the Nets' first D-League call-up of the season.
Photo courtesy of USA Today Sports Images.