Hoops Rumors is breaking down the 2016 offseason for all 30 NBA teams, revisiting the summer's free agent signings, trades, draft picks, departures, and more. We'll evaluate each team's moves from the last several months and look ahead to what the 2016/17 season holds for all 30 franchises. Today, we're focusing on the Los Angeles Lakers.
Free agent signings:
Camp invitees:
Trades:
Draft picks:
Departing players:
Other offseason news:
---
Check out our salary cap snapshot for the Los Angeles Lakers right here.
---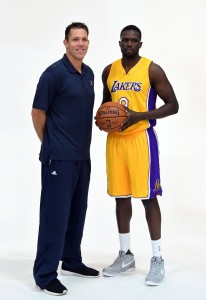 The Lakers' 2015/16 campaign was more about Kobe Bryant's farewell tour than it was about trying to move forward as a franchise. As the Mamba wrapped up his Hall-of-Fame career, the team sputtered to a record of 17-65, four less wins than the previous season, and missed out on the playoffs for the third straight year. Entering the offseason Los Angeles had the opportunity to make a fresh start, but rather than committing to rebuilding through its young talent or chasing veteran stars for a quicker fix, the organization dipped its toe into both wells, resulting in an end product that raised more questions than it answered.
L.A.'s best offseason was move was changing head coaches. Gone is Byron Scott, who was fired after compiling a record of 38-126 in his two seasons with the team, and in comes Luke Walton, who did a phenomenal job in guiding the Warriors last season while Steve Kerr was recovering from multiple back surgeries. Scott was the wrong coach for the Lakers and he had alienated a number of the younger players that the franchise is counting on to lead its resurgence. That wasn't a healthy situation for any of the parties involved, and Walton's presence has been a breath of fresh air in Los Angeles. It remains to be seen how well he'll fare without having a ready made contender dropped into his lap, but I credit the franchise for taking a chance on an up-and-comer rather than recycling another coach who has already made the NBA rounds. Walton's player-friendly demeanor and high basketball IQ should benefit both he and the team over the next few seasons.
Despite being situated in a prime location, warm weather, high-profile city like Los Angeles, the Lakers haven't been an upper-tier free agent destination the past few years. The domineering presence of Bryant was often blamed for the lack of big name players willing to sign with the team, but his retirement didn't suddenly open the floodgates for A-List players who wanted to play their home games in the Staples Center. Instead, GM Mitch Kupchak made a number of questionable signings given the team's current state.
I like the idea behind inking veteran forward Luol Deng, whose professionalism and leadership will certainly be a boon to Walton and the franchise as he tries to teach his young roster how to win. But signing the 31-year-old to a four-year, $72MM pact may not turn out well in the long run. First off, Deng has a lot of mileage on his legs after playing in 825 regular season games over the course of his 12 years in the league. His offensive output has been steadily declining the past few years and that isn't likely going to turn around as he approaches his mid-30s. Leadership is a valuable commodity, but I don't feel it's worth an average of $18MM over the next four years for the Lakers. Plus, his presence could hamper the playing time and growth of a number of the team's young frontcourt players. I'd be a bigger fan of his addition if it was on a short-term pact, but I suppose that L.A. had to overpay in order to get Deng in the fold.
Despite my reservations regarding Deng's signing, his addition is much easier to accept and quantify than the Lakers throwing center Timofey Mozgov a contract worth $64MM over four years. This is a deal that will almost assuredly haunt the team over the life of the arrangement. With the league moving further and further away from using traditional big men, committing an average of $16MM to a player with an extremely limited offensive game who is already in his 30s makes little sense to me. The Lakers almost certainly could have signed a player or players who could provide the same amount of production for much less and not be hamstrung with a long-term deal of this dollar value on their balance sheet.
It's not that Mozgov doesn't have value as a player, but he is an ill-fitting part on this particular roster. He offers up solid defense, but as was illustrated in the 2016 NBA Finals, he is virtually unplayable when teams shift to smaller lineups. With Los Angeles moving toward an up-tempo attack that favors perimeter shooting, it is difficult to see where and how Mozgov fits into that equation moving forward. He very well may become Roy Hibbert 2.0, being relegated to spot duty when the match-ups allow for him to remain on the court. If this indeed becomes the case, adding Mozgov will garner significant buyer's remorse in the near future.
L.A. did more shuffling of its frontcourt during the offseason, signing Yi Jianlian to a team-friendly deal, with just $250K of his $8MM salary guaranteed. The Lakers took a chance that the player could produce off the bench, but Yi ultimately requested his release when it became apparent he didn't factor into the team's plans, and was likely viewed as more of a trade piece thanks to his contract than a rotation player. Instead, Los Angeles settled on keeping veteran Metta World Peace and Thomas Robinson, who is a reclamation project of Walton's after a solid preseason showing. There were rumblings that the franchise wanted World Peace to transition into a coaching role, but the player wasn't ready to hang up his high-tops just yet, and the team parted ways with former second round pick Anthony Brown and his fully guaranteed pact instead.
Kupchak continued to add veterans to the mix, filling out the backcourt by re-signing Marcelo Huertas and acquiring Jose Calderon and a pair of second round picks from the Bulls in exchange for the draft rights to Ater Majok. Both moves were low-risk for the team, and while neither point guard is a high-impact player, they can provide a spark in limited minutes and help tutor young guards D'Angelo Russell and Jordan Clarkson. Calderon is in the final year of his current deal and Huertas' salary is non-guaranteed for 2017/18, so L.A. can easily move on from them after the season.
The Lakers' biggest move regarding their backcourt was re-signing Clarkson, who was a restricted free agent, to a four-year, $50MM deal. Given the exorbitant contracts handed out this offseason to players who had inferior stats to the 24-year-old, an average annual value of $12.5MM should be considered a steal for Los Angeles. While I think Clarkson's best role moving forward is as a sixth man, his salary shouldn't hamper the team the way Mozgov's and Deng's will. Plus, if the team ever decides to flip Clarkson as part of a package for a star player, his contract will be an easy one to move.
While the logic of a number of the team's free agent signings can be questioned, there are no such issues regarding the Lakers' 2016 NBA Draft. No. 2 overall pick Brandon Ingram has the potential to become a two-way star in the league with his length, athleticism, ridiculous wingspan and shooting range. He'll need to put on some pounds in order to survive in the NBA, but that can be said for most underclassmen who enter the league. The player should benefit from Deng as a mentor, but the length of Deng's deal also means that one of the players' minutes will suffer over the next few seasons. Deng could possibly slide over and play the four spot alongside Ingram, but that would subsequently impact the playing time of Julius Randle and/or Larry Nance Jr., both of whom are still works in progress and in need of minutes to realize their potential, or to show the Lakers that they shouldn't be part of their long-term plans.
I'm also a big fan of L.A. snagging Ivica Zubac with the No. 32 overall pick. The 7'1″ center has a wealth of potential, with the player having a surprisingly fluid post game at such a young age (19). It will likely take him a season or two to establish himself as a regular rotation player for the team, but his solid summer league play, where he averaged 10.6 points and 7.2 rebounds while shooting 64.7% from the field, certainly bodes well for the future. But here is another instance where the team's free agent signings could hamper its long-term player growth. I've already noted why I wasn't a fan of the addition of Mozgov, and Zubac's presence on the roster is another reason. If the young big man turns out to be a solid player, then either he or Mozgov will need to ride the pine. If it's Mozgov, that's quite a bit of salary to have parked off the court, and if it's Zubac, it could hamper the development of a player who could end up being far more integral to the Lakers' next playoff team.
The Lakers are in a developmental year this campaign, with the team highly unlikely to snag a postseason spot. That assessment shouldn't come as a surprise given the lack of star talent and copious amount of young, still-developing players on the team's roster. However, it will be much easier to accept another 20-25 win season without Kobe on the roster, provided players such as Russell, Clarkson and Randle can continue to progress and Ingram shows flashes of what made him the No. 2 overall pick. The team does have an odd blend of veterans on long-term deals to go along with these young players, a number of who may hamper Los Angeles' chances of landing a significant free agent haul over the next few summers — provided the franchise is able to once again attract upper-tier talent to the Staples Center.
Salary information from Basketball Insiders used in the creation of this post. Photo courtesy of USA Today Sports Images.