After averaging 9.5 RPG in his first 15 games of the season, Russell Westbrook has dominated the glass over his last four contests, piling up 54 boards in those games, including 18 on Monday night. The hot streak has increased his rebounds per game average to 10.3, to go along with an incredible 30.9 PPG and 11.3 APG. Yes, Westbrook is averaging a triple-double and 30+ PPG through nearly a quarter of the NBA season.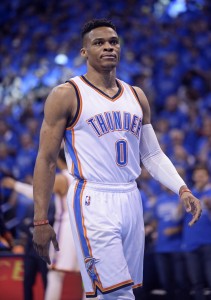 The fact that Westbrook is posting eye-popping numbers so far this season is hardly a surprise. As soon as Kevin Durant departed Oklahoma City and it became clear that Westbrook wasn't going anywhere, NBA observers – and fantasy basketball players – began speculating about what kind of monster stats the star point guard could rack up as the star of the show for the Thunder.
Still, no player in NBA history has averaged a triple-double since Oscar Robertson did it over 50 years ago, so Westbrook's current numbers place him in rarefied air. While head coach Billy Donovan says the idea of Westbrook averaging a triple-double for the entire season isn't a topic of conversation that comes up often within the Thunder locker room, Donovan was willing to entertain the idea, as Fred Katz of The Norman Transcript writes.
"Yeah, he could do it. He could do it," Donovan said. "I'm not gonna say he is or isn't because I think the more important thing is Russell is winning, but he's a guy that has great impact on generating assists. He has a great impact on rebounding the basketball, and he can score. So, there's certainly a possibility that can happen. Obviously what he's done this point in time has been pretty remarkable."
Westbrook set career highs last season with 10.4 APG and 7.8 RPG, so averaging double-digits in assists isn't out of the realm of possibility for him, but averaging double-digits in rebounds would require a substantial leap from his career rate of 5.7 RPG. It's also worth noting that the 28-year-old has never averaged more than 28.1 PPG in a season, and his current scoring rate easily eclipses that mark as well.
For Westbrook, his final numbers may ultimately depend on his ability to avoid wearing down over the course of the year. Currently, his usage rate (40.7) easily ranks first among NBA players, and it remains to be seen if he can keep up that pace for 82 games.
What do you think? Will Westbrook make history and average a triple-double this season, or is too unrealistic to expect him to keep up this pace for the entire year?
App users, click here to vote in the poll.