There were rumblings this offseason that longtime NBA sharpshooter Ray Allen was considering making a comeback, perhaps for a team like the Warriors, Celtics, or Bucks. However, in a piece for The Players' Tribune today, Allen confirmed that he'll officially retire rather than attempting to return to the court for an NBA franchise.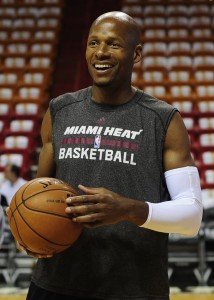 "I write this to you today as a 41-year-old man who is retiring from the game," Allen wrote in the piece, which was framed as a letter to his 13-year-old self. "I write to you as a man who is completely at peace with himself."
Allen, who turned 41 in July, last played for the Heat, helping the team win a championship in 2012/13 and get back to the NBA Finals in 2013/14. By the end of his final year in Miami, he was averaging well below his career mark of 18.9 PPG, but he still shot an impressive 39.8% on three-pointers during those two seasons with the Heat.
Over the course of his 18-year NBA career, Allen spent time with the Bucks, SuperSonics, Celtics, and Heat, earning 10 total All-Star nods with three separate clubs. He left the game as a 40.0% career three-point shooter, having set the record for most career threes.
Allen's 2,973 total three-pointers separated him from second place (Reggie Miller) by more than 400 and from third place (Jason Terry) by more than 800. Still, considering the way the game has evolved in recent years, perhaps the idea of a comeback had some appeal as a way to allow him to stretch that lead, keeping it safe for a little longer. Instead, the former UConn standout will call it career, putting him on track for a Hall of Fame induction sooner rather than later.
Photo courtesy of USA Today Sports Images.