The Grizzlies have officially added free agent point guard Toney Douglas to their roster, the team announced today in a press release. While the Grizzlies had a full 15-man squad, they were granted a hardship exception by the NBA due to their injury woes, allowing the team to sign a 16th man.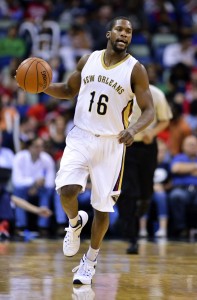 With starting point guard Mike Conley expected to miss at least six weeks due to a back injury, Memphis had been left with rookies Andrew Harrison and Wade Baldwin manning the point. In the wake of Conley's diagnosis, the Grizzlies were linked to several veteran point guards, including Norris Cole, but ultimately seemed to gravitate toward Douglas.
A former first-round pick, Douglas has 370 career regular-season NBA games under his belt, having made appearances for the Knicks, Rockets, Kings, Warriors, Heat, and Pelicans. The 30-year-old had one of his most productive seasons last year for New Orleans, averaging 8.7 PPG and 2.6 APG in a part-time role, while shooting 39.9% on three-point attempts. However, he was unable to land a regular-season roster spot on NBA team this fall, having been cut in camp by the Cavaliers.
While terms of Douglas' new deal with the Grizzlies aren't known, it will likely be a non-guaranteed, minimum-salary pact. The deadline for all non-guaranteed 2016/17 salaries to become guaranteed is January 10, so if Douglas is still on the Memphis roster at that point, the team will have to decide whether or not to keep him around, with Conley perhaps nearing a return by then.
The Grizzlies became eligible to apply for a hardship exception after Saturday's game, since the club had at least four injured players who had missed at least three consecutive games. Conley, Chandler Parsons, James Ennis, Brandan Wright, and Vince Carter all fit that bill for Memphis.
Photo courtesy of USA Today Sports Images.