As we approach NBA trade season, teams around the league are keeping an eye out for star players who could hit the market before this year's deadline. That search has led multiple teams to check in with the Pacers about the potential availability of Paul George, but the Pacers are strongly rebuffing those clubs, according to Adrian Wojnarowski of The Vertical.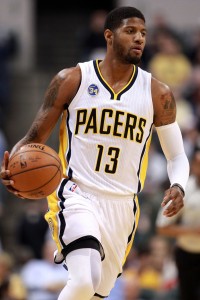 "I know teams have been calling Indiana, and they're going to ask about Paul George, and the answer is absolutely, positively no," Wojnarowski said in a conversation with Bobby Marks on The Vertical's podcast. "He is not available. There is no conversation to be had. Don't even make offers to us, we are not moving Paul George."
According to Wojnarowski, the Pacers' current plan is to build their roster around George and second-year big man Myles Turner. The goal is to find complementary players who will fit in with those two core pieces and who will make George want to stay in Indiana when he becomes eligible for free agency in the summer of 2018. Woj's report is similar to one from ESPN's Zach Lowe last month — Lowe suggested Larry Bird would likely "take it to the end" with George, avoiding a trade at all costs.
George is eligible for a contract extension, and Indiana has expressed interest in locking him up to a max deal, but there's little incentive for him to get something done this early, as I noted when I explored his extension candidacy. George's contract runs through 2018/19, though that final year is a player option.
While George and Turner aren't going anywhere, the Pacers are "open for business" on virtually anyone else on their roster, says Wojnarowski. Indiana was expected to vie for a top-four seed in the Eastern Conference this season, but has been up and down so far, and currently sit just a game above .500 (13-12). Of course, with several other Eastern teams struggling, that record puts the Pacers just a game out of a tie for the No. 3 seed, so it still makes sense for the team to explore win-now moves.
Photo courtesy of USA Today Sports Images.