4:18pm: The Rockets will create an opening on their 15-man roster for Motiejunas by waiving Bobby Brown, per Calvin Watkins of ESPN.com. The move doesn't come as a surprise, since Brown's contract was the only fully non-guaranteed deal on Houston's books.
Watkins adds that Motiejunas will have to pass a physical before he officially rejoins the Rockets. The veteran forward underwent a medical examination with the Nets when he visited the team last week, so the physical isn't expected to be an issue, despite concerns about his back.
Meanwhile, according to Sam Amick of USA Today (Twitter link), now that Houston has matched, Motiejunas' deal is believed to be worth $31MM over four years. An earlier report suggested that the Nets' offer featured $1MM annually in likely incentives, so perhaps those incentives are considered unlikely for the Rockets, in which case they won't initially count against the cap.
3:58pm: The Rockets have matched the four-year, $35MM+ offer sheet Donatas Motiejunas signed with the Nets on Friday, reports Adrian Wojnarowski of The Vertical (via Twitter). Houston will have to clear a spot on its 15-man roster to make the move official and formally bring Motiejunas back into the fold.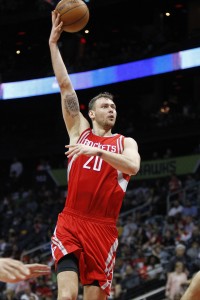 For Brooklyn, the offer sheet for Motiejunas represented the third time this year that the team had made an effort to land a restricted free agent from another club. However, as with the case when they inked Allen Crabbe (Trail Blazers) and Tyler Johnson (Heat) to lucrative four-year offer sheets, the Nets were stymied in their attempt to add young talent when the player's original team matched the offer.
Motiejunas, the NBA's last unsigned RFA of 2016, received a qualifying offer worth about $4.4MM from the Rockets back in June. However, the 26-year-old didn't reach an agreement with Houston or sign an offer sheet with a rival suitor during the offseason, and that qualifying offer expired in October. Still, the Rockets maintained the right of first refusal on the big man, giving GM Daryl Morey the opportunity to match Brooklyn's offer.
The four-year deal Motiejunas signed on Friday with the Nets has a reported base value of about $35MM, and features $500K annually in unlikely incentives, for a full value of $37MM. The contract only includes $5MM in guaranteed money for now, but Motiejunas will reportedly have the rest of his $8.5MM first-year salary guaranteed in January, and his $9MM salary for 2017/18 will become guaranteed if he remains under contract through March 1. In other words, he'll receive at least $17.5MM or so in guarantees unless he's waived within the next three months.
The Rockets' last offer to Motiejunas in November was said to be a two-year proposal worth about $7MM guaranteed in year one. The second-year salary on that offer was non-guaranteed. Houston will now have Motiejunas under contract for four years rather than two, at a slightly higher rate, though the final two years of the new deal will remain non-guaranteed until July 2018 and July 2019, respectively.
While the Nets used their cap room to make Motiejunas an offer, the Rockets will retain him using their Bird Rights. Houston entered the day just slightly over the $94MM salary cap, so the deal figures to increase 2016/17 team salary to over $100MM. The club will still be comfortably below the tax line, which is in the $113MM range.
[RELATED: 2016/17 Salary Cap Snapshot: Houston Rockets]
Although Motiejunas struggled to stay healthy last season and his production took a significant hit, he looked like a player on the rise in 2014/15, when he averaged 12.0 PPG and 5.9 RPG to go along with a .504 FG% and a .368 3PT%. He has been plagued by back troubles in recent years, creating some long-term uncertainty about his health and limiting his market. The Rockets were said to have concerns about how his back will hold up in the long term.
For now though, Motiejunas looks like a good fit for Mike D'Antoni's system, and once he gets up to speed, he'll likely assume a role as the club's backup power forward behind Ryan Anderson. The former 20th overall pick may also see some time at center in smaller lineups, and his return could have an impact on Sam Dekker's and Montrezl Harrell's minutes.
Assuming the Rockets don't make a surprise cut between now and March, Motiejunas will remain with the team throughout the 2016/17 season, since he's not eligible to be traded. Free agents can't be dealt for three months after signing contracts, which means Motiejunas won't be trade-eligible until March 5 — that date falls after this season's February 23 trade deadline.
The Rockets previously agreed to trade Motiejunas to the Pistons at the 2015/16 trade deadline, but that deal fell through due to concerns about the seven-footer's back.
Photo courtesy of USA Today Sports Images.