In the months leading up to February's trade deadline, Hoops Rumors will be taking a closer look at several players we consider trade candidates, discussing their value, speculating on potential destinations, and explaining why they are – or should be – available. These players won't necessarily be dealt in advance of the deadline, but it won't be surprising if they are.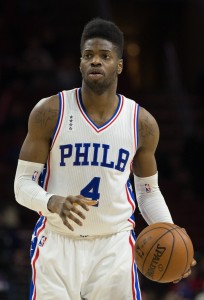 Nerlens Noel, F/C
Philadelphia 76ers
2016/17 salary: $4,384,490
Eligible for restricted free agency in 2017
Trade restrictions: None
Since the 2016 offseason began, trade rumors have surrounded Sixers centers Nerlens Noel and Jahlil Okafor, and while those rumblings grew awfully loud around the time of the draft, both Noel and Okafor remain in Philadelphia. The team's inactivity surprised many observers, including Noel, who kicked off training camp in September by calling the Sixers' logjam at center "silly" and suggesting that something "needs to happen" to resolve the situation.
"I feel like it definitely needs to be figured out," Noel said at the time. "I think at the end of the day, again, you have three starting-caliber centers (Noel, Okafor, and Joel Embiid). And it's just not going to work to anybody's advantage having that on the same team. That's how I'm looking at it. I'm not opposed to anything, but things need to be situated."
The Sixers' logjam sorted itself out during the first several weeks of the season, as Noel was sidelined after undergoing to a knee procedure, and Embiid and Okafor were on minutes limits due to injury concerns of their own. However, Okafor's minutes limit has been lifted, Embiid's has been increased, and Noel appears close to returning to the lineup. With Embiid thriving in his first healthy season, and Noel ready to make his season debut, the 76ers' frontcourt is more crowded than ever. That fact wasn't lost on Noel, as Marc Narducci of Philly.com detailed this week.
Noel's public griping about the situation in Philadelphia so far has been somewhat subdued — it's not as if he's come out and demanded that the Sixers move him. Still, ESPN's Marc Stein recently suggested that the big man would "prefer to be shipped to a new address," and Steve Kyler of Basketball Insiders has heard similar whispers.
According to Kyler, all indications are that Noel wants to be traded this season, and the Sixers will do everything they can to accommodate that (Twitter links). If all things were equal, Philadelphia may have a tough call on which player to trade between Noel and Okafor, but Noel "does not want to be there" and would like to have his own situation somewhere, according to Kyler (Twitter links). The only problem? The former sixth overall pick doesn't currently have a ton of trade value, per Kyler (Twitter link).
At age 22, Noel is still young and has plenty of promise. Last season, in 67 games for the Sixers, he averaged a solid 11.1 PPG, 8.1 RPG, 1.8 SPG, and 1.5 BPG, shooting 52.1% from the floor. Still, there are a few reasons potential suitors will be wary of giving up a whole lot of value to land Noel.
First and foremost, Noel's injury history is a concern. A torn ACL wiped out his entire NBA rookie season, and another knee injury has kept him out of action so far this season. While the former Kentucky Wildcat doesn't as extensive a history of health problems as his teammate Embiid, clubs will want to see him get back on the floor this season to make sure he looks 100% before anything happens on the trade front.
When Noel does get back on the court, teams will keep an eye on his continued development at both ends of the floor. Known for his defense, rebounding, and rim-protecting ability, Noel has the potential to be a Defensive Player of the Year candidate in his prime, and that type of player remains very valuable in today's NBA. On the other end of the floor though, his offensive game is extremely limited. It's worth watching to see if he shows improvement on offense, but possible trade partners for the Sixers will have to take Noel's current limitations into account.
Finally, Noel's contract situation will play a big part in upcoming trade talks. On one hand, a young player still on his rookie contract has plenty of appeal — any team conscious of cutting costs will love that Noel is only earning about $4.384MM this season. Since he's in the fourth and final year of his rookie deal though, Noel is about to get much more expensive. Eligible for restricted free agency in July, Noel could command an annual salary exceeding $20MM on a new deal, given the free agent prices we saw this past summer for older centers with less upside such as Timofey Mozgov and Ian Mahinmi.
Noel's looming free agency makes it tricky for certain teams to construct a deal that makes sense. The Trail Blazers, for instance, could use a big man with Noel's skill set, and the Sixers' ability to take on some extra salary would benefit Portland in the short term. But could the Blazers afford to extend Noel next summer, considering the club already has nearly $130MM in guaranteed money on its books for 2017/18? Sending a big contract or two to the Sixers would help reduce that number, but an extension for Noel would likely put the franchise right back in tax territory.
Teams like the Raptors and Warriors would be in the same boat as Portland, facing financial challenges when it comes to extending Noel, but both teams would be solid fits for the young big. Toronto could offer a package that includes Terrence Ross, while Golden State could perhaps offer Ian Clark, Kevon Looney, and/or draft picks.
Of course, the Celtics have long been mentioned as a potential landing spot for Noel, and Boston could use a shot-blocker in the middle. Despite the C's wealth of assets though, GM Danny Ainge may be reluctant to part with some of them for Noel until he determines whether he needs to hang onto all of them to pull off a bigger trade for a star. If no star-level player is available, perhaps the C's get more serious about someone line Noel. The Sixers would likely target a guard such as Avery Bradley or Marcus Smart.
One intriguing potential trade partner for Philadelphia is the Suns. Phoenix has the cap flexibility to comfortably afford a long-term contract for Noel, and the team has a crowded backcourt at the moment, with starters Eric Bledsoe and Devin Booker pushing Brandon Knight to the bench. It's not clear if the Sixers would have interest in Knight, but he's under contract through 2019/20 at a reasonable rate ($14.125MM per year) and could provide the sort of backcourt scoring punch Philadelphia has been lacking.
Ultimately, Noel is right that the Sixers' logjam at center is untenable, and with his contract set to expire at season's end, Philadelphia will likely have to move him by the deadline to recoup some value for him. Even if the team only gets 50 cents on the dollar, that's a better outcome than losing Noel for nothing next summer, since it doesn't appear as if he has a long-term future in Philadelphia.
What do you think? Should the Sixers trade or keep Noel? Weigh in below in the comments section with your thoughts and possible trade ideas.
Photo courtesy of USA Today Sports Images.