In the months leading up to February's trade deadline, Hoops Rumors will be taking a closer look at several players we consider trade candidates, discussing their value, speculating on potential destinations, and explaining why they are – or should be – available. These players won't necessarily be dealt in advance of the deadline, but it won't be surprising if they are.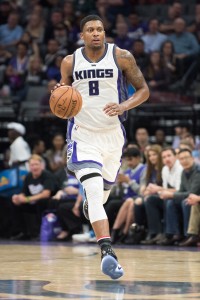 Rudy Gay, F
Sacramento Kings
2016/17 salary: $13,333,333
$14,263,566 player option for 2017/18
Trade restrictions: None
Even if an NBA player has no intention to re-sign with his current team when he becomes a free agent, he'll often say all the right things to reporters. When your contract is winding down, it's easy to say that you'd love to be back with your current team, since that's what just about everyone says.
With that precedent in mind, Rudy Gay's comments in an interview with Sactown Royalty this past July came as a bit of a shock. Rather than repeating the usual sentiments about his coming free agency, Gay bemoaned the lack of stability and consistency in Sacramento, suggesting that he hadn't had "the kind of communication" that he wanted with the team. At the time, nearly one month into free agency, Gay also didn't seem too interested in who his teammates for the coming season would be.
"I don't know," Gay replied when he was asked about new head coach Dave Joerger and the Kings' roster. "Honestly, I haven't paid attention. I don't even know who our new players are to be honest with you. I've just been focused on trying to be healthy and trying to get in shape and get ready for the season, wherever that might be."
Gay's ominous "wherever that might be" line was a fairly strong signal that his long-term plan didn't necessarily include a lengthy stay in Sacramento. But just in case Gay's motivations weren't 100% clear, a report surfaced before training camp began in September indicating that the veteran forward had informed the Kings he would opt out of his contract in 2017. Although the Kings still hadn't shown an inclination to move him at that time, it seemed nearly certain that Gay was planning to sign elsewhere in the summer of '17.
Gay's public comments about his future could have created problems in Sacramento, but the team has handled the situation pretty admirably so far. Although trade rumors and speculation persist, Joerger has made the 30-year-old a focal point of the offense, and Gay has responded by being his usual productive self. In 24 games this season, the former eighth overall pick has averaged 18.5 PPG, 6.3 RPG, and 1.5 SPG.
With Gay playing well, and the Kings climbing up the Western Conference standings into a playoff spot, the situation in Sacramento is about to become even more interesting. On one hand, not a whole lot has changed since the summer. Gay still figures to opt out in July, having recently changed agents in anticipation of his free agency. Unless playing for Joerger really appeals to him, the veteran forward will likely explore the market and sign elsewhere. If the Kings want to avoid being left empty-handed if and when he departs, it still makes sense to move him by February's deadline.
On the other hand though, it has been more than a decade since the Kings were in the postseason, and team ownership badly wants to end that playoff drought. At 14-17, Sacramento hasn't exactly been a powerhouse, and the team's grip on the No. 8 seed in the West is precarious. Still, if there's a chance to participate in a playoff series, the Kings are unlikely to trade one of their top contributors, and Gay has been just that — the team has a +1.9 net rating when he's on the court, and a -9.2 rating when he's not.
If Sacramento explores a trade of Gay, there are a few teams that could be fits. According to various reports, the Magic, Thunder, Pacers, and Rockets are among the clubs that have expressed interest and/or spoken to the Kings about Gay.
What exactly would those teams be willing to give up for Gay? Well, the Magic and Rockets are over the cap, so they'd have to send out plenty of salary to take on Gay's $13MM+ deal. That could mean starting with Jeff Green ($15MM) or Nikola Vucevic ($11.75MM) for Orlando, though I'm not sure the Kings would be eager to add more frontcourt depth. For Houston, Corey Brewer's $7.6MM contract could make sense, but the team would have to sweeten the pot with a young player and/or draft picks. Ditto for the Pacers and Monta Ellis ($10.76MM).
The Thunder have room to take on salary, and have reportedly discussed a deal with the Kings that would have included point guard Cameron Payne. Oklahoma City, which could use an offensive player on the wing to help take some of the scoring load off Russell Westbrook, might be the best fit, but a deal centered around Payne wouldn't make Sacramento a better team this season.
The Kings are in a tricky spot. The worst-case scenario for the team would be to hang onto Gay, miss the playoffs, then lose him in free agency. But even if keeping the veteran forward results in a postseason berth, it's hard to view that as a big win for the franchise. As the probable No. 8 seed, the Kings would likely be playing for the right to get swept in the first round by the Warriors.
Acquiring a young player like Payne, who is under contract through 2019, would be a much better long-term outcome than losing Gay for nothing. But we don't know for sure what the entire hypothetical deal with OKC would look like, or if the Thunder are willing to make such a deal. The Kings are unlikely to get a huge haul for Gay, since potential trade partners will have the same concerns about his looming free agency and will be wary of giving up much for him. But Sacramento still should be reluctant to move the UConn product for 50 cents on the dollar.
For now, there's no rush for Sacramento to make a move. The trade deadline is nearly two months away, and the standings could look much different by that point. If the Kings are six or seven games out of a playoff spot by then, their decision looks simpler — they should try to get what they can for Gay. If they're still right in the thick of things, the Kings will be more inclined to keep their second-leading scorer and avoid downgrading their current roster.
What do you think? Should the Kings trade or keep Gay? Weigh in below in the comments section with your thoughts and possible trade ideas.
Photo courtesy of USA Today Sports Images.