11:55am: The first-round pick acquired by the Hawks in the swap will be top-10 protected in 2019 and 2020, tweets Dave McMenamin of ESPN.com. If it falls in the top 10 in both of those years, it will convert to second-round picks for 2021 and 2022, though that seems unlikely.
According to Bobby Marks of The Vertical (Twitter link), Atlanta also received cash from Cleveland in the deal — roughly enough to cover the $1.2MM left on Williams' contract. The Cavs were eligible to include up to $1.5MM in a trade.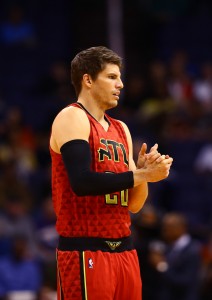 11:29am: The Cavaliers and Hawks have finalized their trade that was first reported on Thursday, tweets Chris Vivlamore of The Atlanta Journal Constitution. The swap, which is now official, will send Kyle Korver to Cleveland in exchange for Mike Dunleavy Jr., Mo Williams, and a protected 2019 first-round pick. The Cavs have confirmed the transaction in a press release.
In Korver, the Cavs will acquire one of the NBA's best long-distance shooter, who has a career 42.9% mark on three-point attempts. Just two years removed from an All-Star nod, the 35-year-old is averaging 9.5 PPG in 32 contests for the Hawks this season, with a .441/.409/.889 shooting line. Korver will provide Cleveland with some additional outside shooting over the next several months while J.R. Smith is sidelined, and will be another scoring threat for the club in the postseason.
By moving both Dunleavy and Williams in the deal and taking only Korver back in return, the Cavs will open up a spot on their 15-man roster, allowing the team to sign, claim, or trade for another player. There's no rush for Cleveland to fill that opening, but with Smith expected to be out until March, and Chris Andersen out for the season, the team will be keeping an eye open for depth options.
That roster spot could ultimately be used on a point guard, as the Cavs have been lacking a reliable veteran option since the start of the season. LeBron James has suggested multiple times this week that he'd like to see the team address the position, and there's no shortage of veteran options on the market, including Mario Chalmers, Jarrett Jack, and Norris Cole.
As for Atlanta, the team has been rumored to be shopping all their veteran players on expiring contracts, a group that included Korver. Now that the club has made one move, there's a good chance others will follow. Thabo Sefolosha, Tiago Splitter, Kris Humphries, and – of course – Paul Millsap remain on the block for the Hawks.
From a salary cap and CBA perspective, the trade is an interesting one. The Cavaliers had a $9.6MM trade exception available that they could have used to comfortably absorb Korver's salary, but the team doesn't necessarily have to use it. Taxpaying teams like the Cavs can acquire up to 125% of the salary they send out in a trade, so Dunleavy's $4.8MM+ salary is enough to take back Korver, who is earning about $5.2MM.
If Cleveland completed the trade that way, the team would hang onto its big $9.6MM traded player exception, which expires next month, and create a new TPE worth Williams' salary ($2.19MM). Alternately, using that $9.6MM TPE to take on Korver, and creating new TPEs worth Dunleavy's salary and Williams' salary is another possibility for Cleveland. Trade exceptions created today wouldn't expire until January 2018.
It's also worth noting that the Cavs needed to first complete a separate trade before this deal could be finalized. Because the Ted Stepien Rule prevents NBA teams from trading consecutive future first-round picks, and Cleveland had already sent its 2018 selection to Portland, the Cavs had to get that '18 first-rounder back, sending out their 2017 first-round pick instead. That allowed the club to move its 2019 pick in its deal with Atlanta.
The Cavs' decision to hang onto Williams even after he had announced his retirement paid off as well. Cleveland was able to attach him to this deal, reducing the team's tax bill and creating an open roster spot. The Hawks, who waived Ryan Kelly this week to create room to complete a two-for-one deal, will likely waive the veteran point guard at some point and eat his salary.
Photo courtesy of USA Today Sports Images.