After a free agent saga that lasted more than six months, it appears Donatas Motiejunas finally has a home. The Pelicans have officially signed the free agent big man to a contract, the team announced today in a press release. Rod Walker of The Advocate first reported (via Twitter) that the two sides reached a verbal agreement.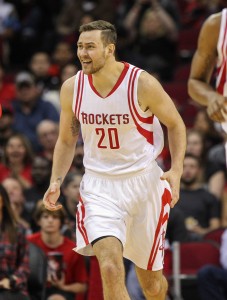 It has been an odd year for Motiejunas, who was involved in both a February trade and a December free agent contract that were scuttled. A 2016 deadline deal that would have sent the 26-year-old from Houston to Detroit was vetoed due to concerns about his back. In July, D-Mo became a restricted free agent, but was unable to find a deal for about five months due to similar health concerns.
Eventually, the veteran power forward signed a four-year offer sheet with the Nets, which Houston matched. Following a dispute about the incentives in that offer sheet, Motiejunas and the Rockets came to a new agreement, but that deal fell apart as well, resulting in the team renouncing its rights to the former first-round pick and making him an unrestricted free agent. Motiejunas visited the Lakers and Timberwolves before talks with the Pelicans became serious over the weekend.
Although Motiejunas struggled to stay healthy last season and his production took a significant hit, he looked like a player on the rise in 2014/15, when he averaged 12.0 PPG and 5.9 RPG to go along with a .504 FG% and a .368 3PT%. While there's some long-term uncertainty about how his back will hold up, he is believed to be healthy now, and could immediately find a role in the Pelicans' rotation.
As Justin Verrier of ESPN.com recently detailed, the Pelicans have found success lately with small-ball lineups, resulting in Omer Asik and Alexis Ajinca dropping out of the team's regular rotation. Motiejunas is a seven-footer, but his ability to shoot three-pointers should allow him to carve out a role in those small-ball lineups.
As for the details of Motiejunas' new contract with the Pelicans, the exact terms aren't yet known, but a one-year, minimum-salary pact seems likely. The team also still has $808K of its room exception available, so doing a deal using the rest of that exception would allow for a slightly larger payday for Motiejunas. Still, it's a significant drop-off from the $7-8MM annual salary he had been seeking. Presumably, the idea is to rebuild his value in New Orleans this season before returning to the open market as an unrestricted free agent in the summer.
Photo courtesy of USA Today Sports Images.