As we approach February's trade deadline, Hoops Rumors will be taking a closer look at several players we consider trade candidates, discussing their value, speculating on potential destinations, and explaining why they are – or should be – available. These players won't necessarily be dealt in advance of the deadline, but it won't be surprising if they are.
Andrew Bogut, C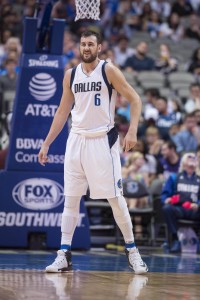 Dallas Mavericks
2016/17 salary: $11,027,027
Eligible for unrestricted free agency in 2017
Trade restrictions: Can't be re-acquired by the Warriors during the 2016/17 league year.

The Mavericks took advantage of Kevin Durant's if-you-can't-beat-them-join-them approach to free agency, acquiring two former Warriors in the aftermath of Durant's decision to wear the Golden State uniform. Signing forward Harrison Barnes to a max contract grabbed most of the headlines but Dallas also secured another starter from the two-time defending Western Conference champions. It traded for veteran center Andrew Bogut, dealing only a conditional second-round pick while also receiving a second rounder.
That virtual giveaway allowed the Warriors to clear cap space, even if it meant handing over one of the league's premier interior defenders. The Mavericks anticipated that a frontcourt of Bogut, Dirk Nowitzki and Barnes would make them a solid playoff team, if not a serious contender.
Fast forward six months and the outlook for the Mavs and Bogut looks quite different. Dallas has one of the league's worst records, while Bogut has battled through a number of nagging injuries, including a right hamstring strain suffered this week. He also missed 11 games last month with a right knee issue.
It's no secret that the Mavericks are shopping Bogut, who is making a little over $11MM in the final year of his contract. Bogut seems resigned to the notion that he'll be wearing a different uniform in the near future.
"Look, if there's an opportunity to go somewhere and they want to do it, I'm not going to beg them to not trade me. But I have not gone to the [front] office and asked for a trade," Bogut said during a press conference last week. "That's probably the best answer that I can give you. It's been a tough season for everybody involved, but it's far from the truth that I've gone to management and asked for a trade."
Bogut realizes the club has every incentive to try to get something for him before the trade deadline. If the Mavs had lived up to their own expectations, they might have a compelling reason to re-sign him. Under the current circumstances, Bogut is taking minutes away from younger players that need to develop.
Coach Rick Carlisle recently indicated that re-signing Bogut was a "real possibility" but even Bogut is skeptical.
"If there was an opportunity for me to come back, there would have been at least extension talks, which I'm not bitter about," he said. "I'm not mad about it. It's just the reality of it. It's the writing on the wall. … The Mavs eventually have to start rebuilding, too. There's no point in bringing back a 33-year-old center if you're in rebuild mode. … I just don't see it."
The first question that potential suitors need to ask themselves is whether Bogut can impact them in the short term. The answer, provided Bogut can return to full strength, is yes.
He's always been a subpar offensive player but his defensive prowess is unquestioned. He led the league two consecutive seasons – 2013/14 and 2014/15 – in Basketball Reference's Defensive Box ratings at 5.6 and 5.5, respectively.
He was close to that mark last season with a 5.1 rating and sports a 5.2 rating this season despite being in and out of the lineup. In the last three postseasons, his Defensive Box numbers were even higher — 5.6, 6.1 and 7.3. Bogut's sprained knee in Game 5 of last year's Finals could have been the difference in the series, though he played limited minutes against the Cavs.
Assuming Bogut will be dealt, where will he go? The Rockets seem to be the most likely destination. The Warriors had deals in place with both the Mavs and Rockets this summer and gave Bogut the option of choosing the team. He, of course, picked Dallas but Houston now looks like a great fit.
Starting center Clint Capela is recovering from a fractured fibula, forcing the Rockets to go with the duo of Montrezl Harrell and Nene Hilario in the middle. A defensive stalwart like Bogut could be the piece needed to get them into the Western Conference Finals for the second time in three seasons.
The Rockets, however, are capped out and there's no obvious package they could put together that would entice the Mavs and still get salaries to match. Thus, it's likely they'd need to get a third team involved.
The Sixers had some unusual interest in Bogut during the offseason but they've got too many bigs as it is. It wouldn't seem reasonable for them to give up a much younger one for him and they've got gobs of cap space for next season, so his expiring contract won't do much good, either.
There are a few contenders that could use Bogut for a playoff push. A Celtics frontcourt pairing of Bogut with Al Horford would be intriguing, possibly vaulting them past the Raptors in the Eastern Conference pecking order.
The Raptors themselves need to shore up a defense that ranks 19th in defensive field-goal percentage. Bogut could provide some assistance in that area.
Memphis could also be a landing spot. Bogut wouldn't have a starting role with the Grizzlies but they could use a veteran backup to Marc Gasol.
It's unlikely that Bogut could wind up with the Big Two. The Warriors would welcome his lane presence again, but league rules prevent them from re-acquiring him until the 2017/18 league year. The Cavaliers have all sorts of cap constraints of their own and seem more intent on finding a backup point guard than a post player.
It seems a pretty solid bet that Bogut will be moved within the coming weeks. It would help all parties involved if Bogut could stay on the court long enough to convince potential suitors that they wouldn't be acquiring damaged goods. Once he proves he can stay out of the training room, a healthy Bogut could certainly improve any contender's outlook this postseason.
What do you think? Should the Mavericks trade Bogut? Weigh in below in the comments section with your thoughts and possible trade ideas.
Photo courtesy of USA Today Sports Images.