As the February 23 trade deadline nears, Hoops Rumors will be taking a closer look at several players we consider trade candidates, discussing their value, speculating on potential destinations, and explaining why they are – or should be – available. These players won't necessarily be dealt in advance of the deadline, but it won't be surprising if they are.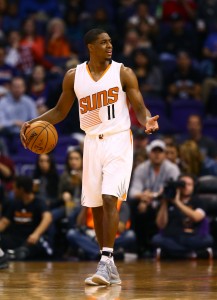 Brandon Knight, G
Phoenix Suns
2016/17 salary: $12,606,250
Eligible for unrestricted free agency in 2020
Trade restrictions: None
Brandon Knight finds himself in an awkward position with the Suns. As a 25-year-old former lottery pick, Knight should be enjoying the prime of his career.
Instead, he's on the fringes of the rotation for a rebuilding team. Thanks to the last contract he signed, Knight has financial security. What he needs now is a chance to revive his career but that contract could prevent that from happening.
The Suns are actively shopping the combo guard, which they already were doing prior to the season, but they're having difficulty finding a taker. Knight is making $12.6MM this season and has three years remaining on the deal, which will pay him approximately $13.6MM, $14.6MM and $15.6MM the next three seasons.
On draft status alone, Knight projected to be one of the league's best point guards by this time. He was selected eighth overall in 2011 by the Pistons, who were in desperate need of a floor leader and viewed Knight as the long-term solution.
Knight got a trial-by-fire introduction into the NBA, jumping right into a starting role on one of the league's worst teams. After just two seasons, the Pistons soured on Knight's ability to run their offense. His assist-to-turnover ratios — 3.8-2.6 and 4.0-2.7 — spoke of Knight's struggles as a floor leader.
During the 2013 off-season, he was shipped along with Khris Middleton to the Bucks for Brandon Jennings. Knight immediately became the Bucks' lead point guard and lasted 1 1/2 seasons there before they, too, decided they needed an upgrade at that spot. Milwaukee acquired Michael Carter-Williams from the Sixers in a three-way, trade deadline deal and sent Knight to Phoenix.
With Eric Bledsoe already in place as the starting point guard, Knight was shifted to shooting guard. He averaged a career-high 19.6 points while starting in 50 of 52 games during an injury-riddled 2015/16 campaign.
The biggest problem for Knight is that the Suns made a wise draft choice prior to last season. They uncovered a gem with a 13th overall pick, selecting offensively-gifted two guard Devin Booker.
Knight has been relegated to a bench role this season and the adjustment hasn't gone well. Advanced statistics rate Knight's offensive performance as the worst of his career and his always suspect defense has also suffered.
He has lost playing time to rookie Tyler Ulis and veteran Leandro Barbosa because coach Earl Watson was unhappy with Knight's defensive effort. He hasn't played the last two games, apparently because of wrist tendinitis, though he has played sparingly over the past month anyway.
Undoubtedly, Knight needs another fresh start. He may not have lived up to his draft status but he can be a productive rotation player in the mold of a Jamal Crawford, providing instant offense off the bench.
Knight may be turnover prone but he's a solid shooter — 41.4% overall, 35.9% percent from long range and 81.0% from the free throw line during his career. He posted positive Offensive Box Plus.Minus ratings over the last three seasons, ranging from 1.2 to 2.0, according to Basketball Reference.
Any potential suitor will have to value his offense over his defensive shortcomings. His career Defensive Box Plus/Minus rating is minus 1.9 and he's never finished on the positive side in any season.
The length of his contract, if not the salary commitment, is the biggest impediment to trading Knight. The dollar figures aren't as scary as they might have been a couple years ago, thanks to the ever-rising salary cap. But a contract with three years left and no team options has to give pause to any GM or team president that might see a role for Knight on his club.
An unnamed front office exec told Arizona Sports 98.7 FM's John Gambadoro that there is virtually no trade market for Knight.
In order to rid himself on Knight's contract, Suns GM Ryan McDonough will probably need to package a desirable young player or draft pick with him. Phoenix drafted two power forwards — Marquese Chriss and Dragan Bender — and taking on Knight's contract could be a stipulation for any team that desires one of those young bigs.
The Suns could alternatively try to boost Knight's trade prospects by packaging a first-round pick. They'll obviously have a juicy lottery pick this summer and don't owe anyone a future first-rounder at the time being. They could also dangle the protected 2018 first-rounder that the Heat owe them.
With aging Tyson Chandler still in the starting lineup, the Suns could be in the market for a center. They might also seek an upgrade over their small forward duo of T.J. Warren and P.J. Tucker.
Right now, there doesn't seem to be an obvious landing spot for Knight. The Cavaliers are the only contender known to be shopping for point guard help but their salary-cap issues make that an unlikely scenario.
The Grizzlies might want some backcourt help behind Mike Conley and Tony Allen, taking into account Conley's recent injury history. Knight could also give a bench boost to the Wizards behind the John Wall–Bradley Beal duo.
Non-contenders like the Knicks, Kings and Heat could also emerge if a young big or high draft pick is part of the proposal. Sacramento reportedly has shown interest for months but the loss of Rudy Gay to an Achilles tendon tear could change their priorities.
If the Suns are unable to move Knight before the trade deadline, he'll simply have to live with a backup role for at least the remainder of the season.
What do you think? Should the Suns trade or keep Knight? Weigh in below in the comments section with your thoughts and possible trade ideas.
Photo courtesy of USA Today Sports Images.