As we approach February's trade deadline, Hoops Rumors will be taking a closer look at several players we consider trade candidates, discussing their value, speculating on potential destinations and explaining why they are – or should be – available. These players won't necessarily be dealt in advance of the deadline, but it won't be surprising if they are.
Rajon Rondo, PG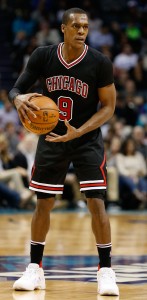 Chicago Bulls
2016/17 salary: $14,000,000
Salary for 2017/18 is guaranteed for just $3,000,000 through June 30th
Trade restrictions: None
Rajon Rondo couldn't have been happier when he signed with the Bulls in July. After a disastrous stay in Dallas and a lost season in Sacramento, the veteran point guard felt like he had finally found a home.
"I'm excited," Rondo said after agreeing to a two-year, $28MM deal. "Great organization with pieces around me that I'm excited about."
Fast forward six months and nobody is excited. Not Rondo, who was pulled from the rotation two weeks ago. And not the Bulls, who are currently outside the playoff race at 20-21 through the first half of the season. Chicago was counting on Rondo and fellow free agent addition Dwyane Wade to turn the team back into contenders, but the fears many observers had about difficulty in meshing their similar styles have come true.
Marksmanship has always been an issue for Rondo, but the problem has become worse than ever since his arrival in Chicago. He's shooting a career-low .368 from the field and just .298 from 3-point range. His scoring average has dipped to 7.3 points per game, which is the lowest since his rookie season.
Rondo responded to coach Fred Hoiberg's decision to take him out of the rotation by asking for a New Year's Eve meeting with GM Gar Forman and executive vice president John Paxson. Little was resolved from that session and Rondo indicated that he would ask for a trade if he couldn't get playing time in Chicago. An unidentified member of the coaching staff told Rondo he had been playing poorly and was benched to "save him from himself."
After riding the pine for 5 1/2 games, Rondo got some help this week from an unlikely source — the flu bug. With Wade, Jimmy Butler and Nikola Mirotic all sidelined, Hoiberg needed healthy bodies and turned to Rondo as the lead guard for the second unit. Rondo played well enough as a reserve that it might become an ongoing role.
"I talked to him about the lift and the spark that he gave us [Tuesday] with the energy and the pace, the push that he had with that second unit,'' Hoiberg told Joe Cowley of The Chicago Sun-Times.
Of course, the situation isn't ideal for either party. Rondo doesn't want to be a backup after 10 years as a starter, and the Bulls don't want to be paying $14MM to their second-string point guard.
But does that mean he will be traded out of Chicago before the February 23rd deadline?
Despite his shooting woes, there are still many reasons why teams would be interested in picking up Rondo. He's the reigning league leader in assists, averaging 11.7 last season for a Kings team that finished well out of the playoffs. Also, Rondo is only 30 and is healthy enough to have several productive seasons left. And his contract for 2017/18 is only guaranteed for $3MM through June 30th, which means a team could easily part ways with him if the deal doesn't work out.
The defending champs might be a possible trading partner, as a report last week said the Cavaliers are keeping a close eye on the Rondo situation. Cleveland has been in the market for a backup to Kyrie Irving since the season began, following the sign-and-trade of Matthew Dellavedova to the Bucks and the retirement and subsequent trade of Mo Williams to the Hawks.
Rondo's contract would make him a pricey addition for a team that already has the NBA's highest salary, and it's not clear whom the Cavs would give up in a deal. Cleveland seems more likely to swoop in if Rondo gets bought out, although his poor 3-point shooting makes him a bad fit in the Cavaliers' offense.
Another rumor that has gotten some traction involves Miami. The Heat still owe Goran Dragic more than $54MM over the next three seasons and may want to unload that contract to speed up the rebuilding process. Dragic is making $15.89MM this season, so their salaries would easily match up. Chicago could reunite the Dragic-Wade backcourt and gain some outside shooting, while Miami could either waive Rondo or renegotiate with him after this season and maybe pick up a draft pick or two to help replace the package they sent to Phoenix to acquire Dragic.
The Sixers are another interesting possibility for Rondo, if only as a short-term option until Jerryd Bayless returns from injury next season and rookie Ben Simmons is ready to take over the offense. A recent hot streak has sparked hope of playoff contention in Philadelphia, and a veteran point guard might be just what the Sixers need to maximize the team's wealth of young frontcourt talent.
Wherever Rondo goes next, it will almost certainly be a better fit than the Bulls. It appeared to be an odd signing even before Wade committed to Chicago, and the Butler-Wade-Rondo trio always seemed destined to fail because of overlapping skills.
Still, Rondo is too talented to sit on the bench with the Bulls or to be relegated to the second unit. If Chicago is set on using Michael Carter-Williams as its starter, the organization is better off finding a new home for Rondo rather than running the risk of him being a disruptive force for the rest of the season. Rondo could be a giant X factor wherever he goes. He could turn out to be a valuable piece for a title contender just as he was in Boston, or he could quickly sink a team's postseason just like he did in Dallas.
What do you think? Should the Bulls trade Rondo? Weigh in below in the comments section with your thoughts and possible trade ideas.
Photo courtesy of USA Today Sports Images.