3:19pm: The deal is official, with the Hornets acquiring Plumlee and cash considerations from the Bucks in exchange for Hibbert and Hawes, according to a pair of press releases. The Bucks also confirmed the release of Novak.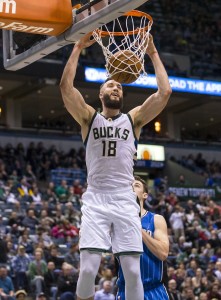 "We are excited to add Miles to our roster," Hornets GM Rich Cho said in a statement. "He is an athletic big man who brings additional physicality and rebounding to our frontcourt rotation.  He's a proven player with a strong work ethic and we think he'll fit in well with our core group."
"Spencer and Roy are two proven NBA centers who give us additional depth and versatility in the front court," Bucks GM John Hammond said of his team's acquisitions. "The trade also gives us future cap flexibility as we continue to shape our roster. Miles and Steve are true professionals both on and off the court, and we wish them all the best.
1:22pm: The Bucks and Hornets have reached an agreement in principle on a trade that will send Miles Plumlee to Charlotte, according to Marc Stein and Brian Windhorst of ESPN.com (via Twitter). Milwaukee will receive Roy Hibbert and Spencer Hawes in the deal, per the ESPN duo. The Bucks will release Steve Novak in order to clear a roster spot for the two incoming players, tweets Adrian Wojnarowski of The Vertical. Wojnarowski adds (via Twitter) that a trade call has been scheduled for later today to make the deal official.
Plumlee, 28, reached restricted free agency last summer, and eventually agreed to a four-year, $50MM deal with the Bucks. However, his role in Milwaukee has been reduced this season. Plumlee's minutes per game have dipped from 14.3 to 9.7, and his other averages in several other categories have taken a hit as well. Most notably, he's shooting just 44.1% from the floor this year after making more than 60% of his field goal attempts in 2015/16.
While the Bucks entered the season reportedly looking to move Greg Monroe, the former Piston has been a solid contributor for Milwaukee, and has split the majority of the club's minutes at center with John Henson, leaving Plumlee on the outside looking in. In Charlotte, Plumlee should have the opportunity to earn a larger role, particularly with two Hornets big men – Hibbert and Hawes – heading the other way in the deal.
Hibbert and Hawes have each been part-time players for the Hornets this season, combining to average just under 34 minutes per game between them. Hawes has contributed 7.3 PPG and 4.2 RPG, while Hibbert has chipped in 5.2 PPG, 3.6 RPG, and 1.0 BPG.
Considering there wasn't much playing time available in Milwaukee for Plumlee, it may be difficult for both Hibbert and Hawes to carve out regular roles for their new team, but early indications are that the Bucks intend to keep both players, per Stein (Twitter link). It's worth noting that the Bucks have been linked to Hawes in the recent past — his name came up in a Monroe trade rumor during training camp.
For the Bucks, the move represents a cost-cutting maneuver for the future. Although Hawes ($6.35MM) and Hibbert ($5MM) make nearly as much as Plumlee ($12.5MM) this season, neither player is under contract for long. Hibbert will become an unrestricted free agent this summer, and Hawes could follow suit, if he turns down his $6MM+ player option for 2017/18. Plumlee, on the other hand, will earn a guaranteed $12.5MM salary annually through the 2019/20 season, limiting Charlotte's spending flexibility down the road.
The Bucks will also eat a little dead money by cutting Novak, who had been on a one-year, minimum salary contract. Assuming he goes unclaimed on waivers, his $980,431 cap charge will remain on the books for Milwaukee.
While the trade is hardly a blockbuster, it's an interesting move for two teams who are battling one another for a playoff spot in the Eastern Conference. Currently, Charlotte maintains a tenuous grip on the No. 8 seed, with a 23-27 record, while Milwaukee is close behind, at 21-27.
Photo courtesy of USA Today Sports Images.