With Giannis Antetokounmpo evolving into a legitimate MVP candidate, the Bucks evolved along with him, finishing strong and returning to the postseason despite playing without Khris Middleton and Jabari Parker for significant portions of the season. Milwaukee may not be a bona-fide contender quite yet, but the team looked dangerous in the first round of the playoffs, taking a 2-1 lead on the Raptors before Toronto came back to win the series.
Antetokounmpo, who is still just 22 years old, may yet have room to improve, which bodes well for the Bucks as they attempt to fortify their roster around him. Finding the best way to add and retain those complementary pieces will be the key challenge for the Bucks this summer.
Here are five important questions facing the Bucks as they enter the offseason…
1. Who will be making the final call on roster decisions?
John Hammond was my pick for Executive of the Year this past season, based on his impressive work in the draft and in trades. Milwaukee isn't exactly a top destination for elite free agents, so the Bucks benefited from having their roster managed by someone like Hammond, who was capable of finding value in minor moves.
Hammond is now the general manager in Orlando, leaving assistant GM Justin Zanik as the executive calling the shots in Milwaukee right now. Zanik is a candidate – and a good one – to take over the top job in the Bucks' front office, but the club is conducting a broad search for that position, and has already received permission to speak to execs from four other teams.
A timetable for a hiring hasn't yet been announced, so it remains to be seen whether the Bucks will add someone to the front office in time for that newcomer to have substantial input on the team's offseason moves, or whether Zanik will be allowed to run the show this offseason whether or not he formally receives a promotion.
2. How does Jabari Parker fit into the Bucks' long-term plans?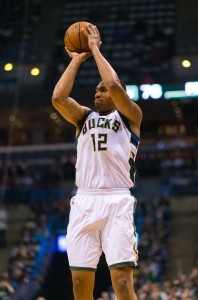 One of the decisions facing the Bucks' new general manager this offseason will be whether or not to lock up Parker. The former No. 2 overall pick is eligible for a contract extension as of July 1, but he also remains in the process of rehabbing his second major ACL injury.
Complicating matters further is the fact that Milwaukee's best stretch of the 2016/17 season came after Parker's injury. When Parker went down, the Bucks had a 22-29 record, and seemed likely to tank down the stretch. Instead, the team went on a 20-11 tear to finish the season, thriving without Parker in the lineup.
That successful second-half run doesn't mean that the Bucks are better without Parker for the long term, but – combined with his ACL injury – it's probably enough to give the organization pause when it comes to working out a contract extension this offseason.
3. Will Greg Monroe opt in?
Monroe was the subject of trade rumors throughout the 2016/17 season, but one potential roadblock for interested teams was his 2017/18 player option. Some clubs didn't want to trade for Monroe only to have him opt out at season's end, while others reportedly preferred to clear his salary after one year, and didn't want to risk him opting in.
With decision day approaching, it's still not clear which way Monroe is leaning. On one hand, he had a reduced role this past season and isn't a strong outside shooter or rim protector, reducing his value. On the other hand, he had a strong year as a scorer off the bench, he's still young (27 on Sunday), and while he may not exceed his $17.88MM option salary for '17/18 as a free agent, he should be able to top that figure easily on a multiyear deal.
The Bucks may actually prefer to have Monroe pick up his option, since their cap situation would make it tricky to land a capable replacement if he opts out.
4. Will the Bucks retain Tony Snell?
The Bucks are even less likely to have cap room to use on outside free agents if they decide to bring back Snell, who is a restricted free agent. A key rotation piece in 2016/17, Snell established new career highs in MPG (29.2), PPG (8.5), FG% (.455), 3PT% (.406), and several other categories. The 25-year-old, who was one of the team's most reliable three-point shooters and wing defenders, will be in line for a raise this summer, and the amount of that raise figures to determine whether or not he remains in Milwaukee.
A year ago, wing players like Kent Bazemore, Evan Turner, and Allen Crabbe landed $70MM+ contracts. Snell was arguably just as effective as any of them last season, but he's unlikely to be as expensive — fewer teams will have cap room, and the fact that all those 2016 deals look like poor investments now will likely deter clubs from being too aggressive on a player like Snell. Still, the former Bull figures to draw plenty of outside interest, and the Bucks – with the flexibility to match any offer – will have to decide how high they're willing to go.
5. Will the Bucks roll the dice in the first round again?
Antetokounmpo may be a top-10 player now, but he was only the 15th overall pick in 2013, having been viewed at the time as a raw project with upside. That gamble paid off in a major way for the Bucks, who rolled the dice again in 2016 on Thon Maker with at No. 10 overall.
At the time, ESPN's Chad Ford wrote that the Maker pick was "probably the biggest surprise of the draft," and one that received plenty of criticism. It remains to be seen how that pick will work out for Milwaukee in the long run, but Maker showed plenty of flashes of promise in limited action in his rookie season, and looks capable of developing into a difference-maker.
The Bucks are picking way down at No. 17 this season, so it will be interesting to see whether the new management group decides to play it safe and add a potential bench piece, or whether the club swings for the fences again. As I noted earlier, the Bucks aren't likely to attract top free agents, and probably won't have a top-five pick anytime soon, so gambling on a high-upside player again in the mid-first-round makes a lot of sense.
Here's where things currently stand for the Bucks financially:
Guaranteed Salary
Giannis Antetokounmpo ($22,471,911)
Khris Middleton ($14,100,000)
John Henson ($11,422,536)
Mirza Teletovic ($10,500,000)
Matthew Dellavedova ($9,607,500)
Jabari Parker ($6,782,392)
Thon Maker ($2,684,160)
Rashad Vaughn ($1,889,040)
Larry Sanders ($1,865,547) — Waived via stretch provision

Malcolm Brogdon ($1,312,611)
Total: $82,635,697

Player Options
Team Options
Non-Guaranteed Salary
Restricted Free Agents
Tony Snell ($4,588,840 qualifying offer / $5,920,818 cap hold)
Total: $5,920,818
Cap Holds
Greg Monroe ($22,289,589) — If player option is declined
Spencer Hawes ($9,523,137) — If player option is declined
Michael Beasley ($1,471,382)
Jason Terry ($1,471,382)
No. 17 overall pick ($2,135,040)
Total: $36,890,530
Trade Exceptions
Projected Salary Cap: $101,000,000
Maximum Cap Room: $14,598,033

With their nine players on guaranteed contracts, their first-round pick, and two empty roster spot charges, the Bucks have $86,401,967 in projected salary for 2017/18, giving the team a little breathing room under the cap. However, that's probably not a realistic scenario, since it would mean renouncing Snell and all their trade exceptions, not to mention Monroe and Hawes both turning down their player options. It's much more likely that the Bucks will remain over the cap this offseason.
Footnotes:
Payton's 2017/18 salary believed to be non-guaranteed, per Basketball Insiders. The Vertical lists it as guaranteed.
Salary information from Basketball Insiders and The Vertical was used in the creation of this post. Photo courtesy of USA Today Sports Images.