On the surface, the Utah Jazz seem poised to be a serious contender for years to come. They bounced back from an injury-riddled, 40-42 campaign in 2015/16 and finished 20 games over .500 this season. That 51-31 record was good enough for the No. 5 seed in the Western Conference.
They made some noise in the playoffs, defeating the more-heralded Los Angeles Clippers in a hotly-contested series that took the full seven games to decide. The Jazz stunned the Clippers at the Staples Center after losing Game 6 in Salt Lake City. There was no shame in getting swept by the much more talented Warriors in the conference semifinals.
Utah's top players are either in or approaching their prime years. The problem is that as many as five key contributors could enter the free agent market this summer, including its franchise player. Within a couple of months, the Jazz could continue to build upon the momentum of a successful season or be faced with a major rebuild.
Here's a look at the biggest questions confronting the club this offseason:
1. Will Gordon Hayward remain the face of the franchise or be lured away by another playoff team?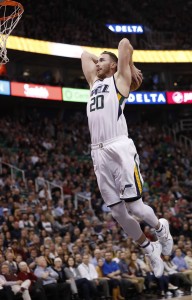 There's little doubt that Hayward will sacrifice the $16.7MM salary he was scheduled to earn next season and opt out of the final year of his contract. What Hayward decides to do will have enormous implications on the franchise's future.
Hayward's value is at its peak after he set new career marks in PPG (21.9) and RPG (4.7) this year. It's possible that Hayward could opt in and then sign a massive extension, which could eat up to 35% of the team's cap if he is named to an All-NBA team, which will be unveiled Thursday.
The more likely scenario is that Hayward shops his services and tests the market, though by possessing his Bird rights the Jazz can pay him more than any potential suitor. The Jazz will have to max out Hayward, or come close to doing so, to have any hope of keeping him around. The Celtics certainly come to mind among contending teams that might view Hayward as the missing piece to a championship. Plenty of others will make a pitch for him should he decide to enter the market.
The Jazz would have little choice but to pay whatever is required to keep Hayward because without him, they immediately have the look of a lottery team.

2. The point guard situation is muddled, with two rotation players headed for free agency. What should they do?

Utah's front office would feel a lot more comfortable if Dante Exum emerged as the floor leader it anticipated when drafting him No. 5 overall in June 2014. A knee injury sidetracked Exum's development and he hasn't been the same explosive player since his return. He had a woeful 8.58 PER this season.
George Hill and Shelvin Mack are unrestricted free agents, and re-signing Hill would seem to be the second-highest priority, other than retaining Hayward. Hill, who has expressed a desire to remain in Utah, is coming off a season in which he averaged a career-high 16.9 PPG. His importance to the club was only reinforced when he missed three of the four postseason games against Golden State.
If the Jazz lose Hill, they'll be exploring the trade and free agent markets for a replacement. Mack is nothing more than a solid backup, though the Jazz could re-sign him if the price is reasonable and they don't feel comfortable with Exum as the main reserve.
3. Rodney Hood can be signed to an extension prior to the regular season. How will that play out?

Exum is also eligible for a rookie extension but it's difficult to see the Jazz pursuing that option, given Exum's uneven play this season. Hood is a tougher call.
The starting shooting guard is an above-average 3-point shooter, and those players are always at a premium. Hood had a solid second season and got off to a good start this season in his third year. But he was nagged by a knee injury and his production plummeted. He wasn't much of a factor in the postseason, averaging 8.9 PPG and shooting 26% on 3-point attempts.
The prudent approach would be to let Hood prove he can stay healthy and be more productive next season, then try to re-sign him when he's eligible to become a restricted free agent.
4. Boris Diaw has a $7.5MM team option. Should the Jazz pick it up?

The veteran forward retained a rotation role most of the season but didn't add much from a statistical standpoint — 4.6 PPG and 2.2 RPG in 17.6 MPG while shooting 24.7% from long range. Diaw wants to remain in the league and his salary isn't all that much for a rotation player.
However, it's unlikely that the team will keep Diaw, whose salary becomes guaranteed if he's on the roster July 15th. They can explore other avenues to fortify their frontcourt and they also hope to get more out of Derrick Favors and Trey Lyles next season.
5. The Jazz have some flexibility in the draft, with two first-rounders and a pair of second-rounders. What should they do with those picks?

The two first-rounders are late in the round — Nos. 24 and 30. The extra first-rounder comes courtesy of the Warriors, while the additional second-round pick will be handed over by the Pistons.
The Jazz could choose to package those first-round picks and move up to a better spot, or deal one of them as part of a package to acquire a proven player or a potentially better pick in the future.
If they do not trade either of the first-rounders, one of them will likely be a draft-and-stash prospect. It's highly unlikely the Jazz will hold onto all four picks, unless they completely strike out on the trade market.
Here's where things currently stand for the Jazz financially:
Guaranteed Salary
Rudy Gobert ($21,224,719)
Derrick Favors ($12,000,000)
Alec Burks ($10,845,506)
Joe Johnson ($10,505,000)
Dante Exum ($4,992,385)
Trey Lyles ($2,441,400)
Rodney Hood ($2,386,864)
Joel Bolomboy ($1,312,611)
Total: $65,708,485
Player Options

Team Options
Non-Guaranteed Salary
Restricted Free Agents
Joe Ingles ($2,687,500 qualifying offer / $4,085,000 cap hold)
Total: $4,085,000
Cap Holds
Gordon Hayward ($24,109,710) — If player option is declined
George Hill ($15,200,000)
Shelvin Mack ($4,623,335)
No. 24 overall pick ($1,579,440)
Jeff Withey ($1,471,382)
No. 30 overall pick ($1,394,520)
Total: $48,378,387
Projected Salary Cap: $101,000,000
Maximum Cap Room: $30,686,325

With their eight guaranteed contracts, cap holds for two first-round picks, and a pair of cap charges for empty roster spots, the Jazz would have a team salary of $70,313,675. However, in that scenario, Utah would have to renounce Hayward, Hill, Ingles, and the rest of their free agents, in addition to waiving Diaw and Neto. So that's probably an outcome the club will try to avoid. Re-signing Hayward and/or Hill would eat up most or all of Utah's potential cap room.
Footnotes:
Diaw's salary becomes fully guaranteed after July 15.
Salary information from Basketball Insiders and The Vertical was used in the creation of this post. Luke Adams contributed to this post. Photo courtesy of USA Today Sports Images.