MAY 5, 8:32am: Speaking to Chris Vivlamore of The Atlanta Journal-Constitution, Hawks owner Tony Ressler has confirmed the changes reported below. According to Ressler, Wilcox will serve as a special advisor to team ownership going forward, and the search has begun for a new general manager to head the basketball operations department.
MAY 4, 4:21pm: Although a report on Wednesday indicated that the Hawks were set to part ways with Wes Wilcox, the general manager will remain with the franchise in a high-ranking front office role after all, reports Adrian Wojnarowski of The Vertical. However, Atlanta's front office will still be undergoing some changes.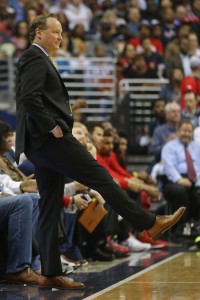 According to Wojnarowski, Mike Budenholzer will relinquish his title as the Hawks' president of basketball operations. Budenholzer will remain the club's head coach, and will still have a say in personnel decisions, but he will no longer oversee the basketball operations department. Instead, Atlanta will seek out a new president of basketball operations, per Wojnarowski.
Since June 30, 2015, Budenholzer had been the team's president of basketball operations, in addition to the head coach. In that faculty, Budenholzer had the final say in all basketball matters. Budenholzer has been the Hawks' head coach since the end of 2013 playoffs. Prior to taking the head coaching job in Atlanta, Coach Bud was an assistant coach under Gregg Popovich with the Spurs.
As we discussed on Wednesday, there are now only four men in the NBA who possess both head coach and president of basketball operations titles: Doc Rivers with the Clippers, Stan Van Gundy in Detroit, Tom Thibodeau with the Timberwolves, and Popovich in San Antonio.
The Hawks just completed a 43-39 season, in which they finished as the fifth seed in the Eastern Conference and were eliminated in the first round by the Wizards. Atlanta has made the playoffs in ten consecutive seasons.
On Tuesday, the Magic began their interview process for president of basketball operations, with names such as Kevin McHale and Cavaliers GM David Griffin topping their wish list. Orlando is the only team besides Atlanta currently seeking a president of basketball operations. In the coming days, it will likely become apparent whether the Hawks will pursue the Magic's candidates for their own vacant post.
Minority owner Grant Hill will play a key role in the search process, but has currently shown no interest in moving to operations full-time, Woj reports.
Joshua Fischman contributed to this story. Photo courtesy of USA Today Sports Images.