Welcome to the fifth installment of Hoops Links, where we round up our favorite content from around the NBA blogosphere and shine a light on it here. Every week we set out to feature entertaining, original content powered by the blogging community.
See your own piece plugged? Well done! Now share the love by spreading the word about Hoops Links – we're talking favs, retweets, postcards to mom and everything in between. Help us build a bigger stage for your best work!
If you want to hit us up with a link in the future, make sure to drop me a line on Twitter (@AustinKent) or even just email HoopsRumorsTips@Sports.ws. Remember, we want to be intrigued and captivated. It also helps if the content is relatively fresh (considering we publish on Thursdays).
Without further ado…
---
With a roster full of young players and a negligible chance of winning a meaningful amount of ball games, the Suns made the decision with months remaining in the season to tank unabashedly. After Tuesday's NBA draft lottery, in which Phoenix dropped from a projected No. 2 seed to the No. 4 seed, Adam Maynes of Valley of the Suns wrote a spirited column suggesting that the organization got what it deserved.
Rating: 9 out of 10 Angry Earl Watsons
Author: Adam Maynes – @Adam4America
Link: Phoenix Suns tank fail
---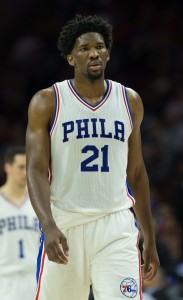 We're all happy to buy into the quirky Joel Embiid narrative whenever the goofy big man does something like sip a Shirley Temple on live television. But what if we're living a lie? Kyle Neubeck of Liberty Ballers revealed that the pink beverage at Embiid's side during the Draft Lottery was little more than a prop.
Rating: 8 out of 10 Red Pills
Author: Kyle Neubeck – @KyleNeubeck
Link: Joel Embiid's Shirley Temple prop
---
Are the Bulls less likely to deal Jimmy Butler to the Celtics now that Boston has landed the No. 1 pick in the draft? Vijay Vemu of Blog A Bull suggests as much, writing that Danny Ainge took a risk holding onto the pick at the deadline rather than going the safe route and dealing for an established star.
Rating: 7 out of 10 Fortunate Gambles
Author: Vijay Vemu – @VJVemu
Link: Jimmy Butler to Celtics less likely
---
The Hawks could have done more to involve Dwight Howard in their offense, Da'Vonte Hughes of Soaring Down South writes, suggesting that the big man had reason to be upset with how he was utilized during his first season Atlanta.
Rating: 8 out of 10 Neglected Supermen
Author: Da'Vonte Hughes – @CookieByNature
Link: Dwight Howard non-option for Hawks
---
Did you forget that Joel Anthony was still in the NBA? You aren't alone. Dan Devine of Ball Don't Lie noticed the big man's name trending on Twitter and discovered that people all around the world were shocked to see the veteran big man suit up in the Spurs' blowout loss Wednesday.
Rating: 8 out of 10 Two-Time NBA Champions
Author: Dan Devine – @YourManDevine
Link: Joel Anthony trends on Twitter
---
There are similarities between Jimmy Butler and Stanley Johnson, including underwhelming freshman and sophomore seasons, says Luke Wolthuis of Piston Powered. Could Johnson, a well-built two-way forward, make a leap similar to that of Butler's in Year 3?
Rating: 7 out of 10 Better Late Than Nevers
Author: Luke Wolthuis – @WolthuisLuke
Link: Stanley Johnson, Jimmy Butler comparison
---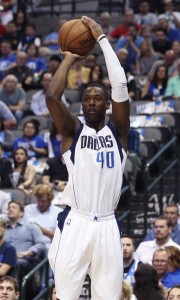 Although he may not win the award, Harrison Barnes deserves a spot in the Most Improved Player conversation, Sam Guertler of Mavs Moneyball suggests. The forward's offensive game improved dramatically in his first year as a targeted weapon in Dallas, without any compromise in efficiency.
Rating: 8 out of 10 Additional Better Late Than Nevers
Author: Sam Guertler – @SamGuertler
Link: Harrison Barnes Most Improved Player
---
It takes a delicate balance of usefulness and expendability for a player to suit up for three different franchises in one season. This year, Ersan Ilyasova dressed for the Thunder, Sixers, and Hawks, and still managed to set a new career high for points in a season. Miles Wray of The Step Back took a good long look at how the season stands up historically.
Rating: 9 out of 10 Bonus Points For Playing For Two Altogether Different Teams Last Year
Author: Miles Wray – @MilesWray
Link: NBA players who play for three teams in one season
---
It was hard to evaluate the first season in the NBA for Jakob Poeltl, a lottery pick on a reigning Eastern Conference Finals squad, but Brian Boake set out to do so anyway for Raptors Rapture. In Poeltl, the Raptors have a cheap, malleable option to audition as their Stretch 5 of the Future.
Rating: 8 out of 10 Teenage Mutant Ninjas
Author: Brian Boake – @NewmarketBrian
Link: Jakob Poeltl's future with Raptors
---
Over the years, Gregg Popovich has simply owned Mike D'Antoni in the NBA playoffs, so much so that the J.R. Wilco over at Pounding the Rock had a particularly specific video commissioned just to drive home the point.
Rating: 9 out of 10 Academy Award-Winning Method Actors
Author: J.R. Wilco – @JRWilco
Link: Gregg Popovich, Mike D'Antoni History
Photos courtesy of USA Today Sports Images.