Dwyane Wade has informed the Bulls that he will pick up his player option for next season, Vincent Goodwill of CSN Chicago reports (link via Twitter). Wade's option for 2017/18 is worth $23.8MM.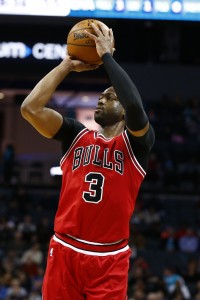 [RELATED: NBA Player Option Decisions For 2017/18]
Wade, who will turn 36 next January, remains productive, but is coming off a season in which his numbers reached their lowest point since his rookie year. The 14-year veteran averaged 18.3 PPG with a career-low .434 FG% in 60 games for Chicago, failing to earn an All-Star nod for the first time since 2003/04.
Given his declining production, Wade would have had a very hard time finding an offer on the open market that would pay him anything close to the value of his option with the Bulls, so it's no surprise that he'll exercise it.
Interestingly, Wade's decision comes at a time when the Bulls are reportedly becoming more open to the possibility of trading Jimmy Butler. Reports have indicated that Wade has little interest in going through a rebuild, so if Chicago does blow up its roster by moving Butler in the coming days, it's not out of the question that the team could look to move Wade as well — though his salary would make him a tricky trade chip.
For the time being, Wade is on track to return to a roster that features Butler and Rajon Rondo for at least one more year.
Luke Adams contributed to this post. Photo courtesy of USA Today Sports Images.