The Detroit Pistons were a massive disappointment this season and enter the offseason with plenty of tough decisions to make.
Coach and president of basketball operations Stan Van Gundy committed to the core group of players he assembled the past two years by handing out multiyear contracts to his two top players, Andre Drummond and Reggie Jackson, and adding some expensive pieces.
The Pistons, who made the playoffs for the time since the 2008/09 season the previous year, sank out of contention as virtually everyone on the roster underachieved. Their longest winning streak was a meager three games. Drummond and Jackson both had subpar seasons and heard their names bandied about in trade rumors.
Van Gundy now heads into a pivotal summer seeking to make roster upgrades despite an unpalatable cap situation.
Here's a look at the major questions confronting the club this offseason: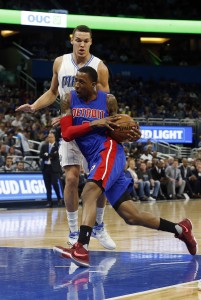 1. Should the Pistons hold onto restricted free agent Kentavious Caldwell-Pope at all costs?
It's expected that locking up Caldwell-Pope will require a contract in excess of $20MM per year.
Caldwell-Pope is the team's best perimeter defender and he's entering his prime years. If the team's curve continued on an upward arc this season, it would a pretty easy decision to match any offer.
The team's cap situation and Caldwell-Pope's spotty offense changes that dynamic. They'll be perilously close to the luxury tax threshold if they re-sign him to a big number and he's not a consistent offensive threat. In 31 of the 76 games he played this season, Caldwell-Pope scored 10 or fewer points.
Van Gundy wants to keep Caldwell-Pope, but he shouldn't take an "at any cost" approach to the shooting guard's free-agency foray.
2. Should Reggie Jackson be given a mulligan or do the Pistons need to trade for another point guard?
Jackson wasn't the same explosive force he was in the 2015/16 campaign due to knee tendinitis. He missed the first 21 games and once he returned, he couldn't get to the rim with the same verve. That took a heavy toll on the team's offense, which revolves around Jackson-Drummond pick-and-rolls.
Van Gundy basically shut down Jackson the last month and by the end of the season, Jackson looked like his old self in practices. Considering Jackson's contract — he has three years and $51MM left — and reduced value on the trade market, Van Gundy may have little choice but to hope Jackson stays healthy and enjoys a bounce-back season.
3. Would it be wise to trade Andre Drummond?
Drummond made the All-Star team in 2015/16 season, but instead of taking another step forward, he became a source of frustration after his big extension kicked in.
Drummond's scoring and rebounding averages dropped, his defensive intensity waned and his free throw shooting remained painful to watch, though he's still one of the top young big men in the league and the NBA's best offensive rebounder.
Jackson's issues affected Drummond above all else and it stands to reason that a healthier Jackson will lead to a more productive Drummond. Van Gundy doesn't consider Drummond an untouchable but he'd need to get an All-Star level player in return. The whole scheme revolves on Drummond being a dominant force and it's doubtful that they'd find a suitable offer for him if they're truly in a win-now mode.
4. What should the Pistons do with the No. 12 pick?
By all accounts, the Pistons are trying to shop their lottery pick. While the draft is stronger than last season's crop and Detroit's selection is six slots higher, the team would rather add proven veterans who can jump into the rotation.
Their first-rounder last year, power forward Henry Ellenson, shuttled between the D-League and the end of the bench.
It's quite possible they'll look to trade this pick for a starter-quality shooting guard that can replace Caldwell-Pope if they're unsure they'll re-sign him.
5. What can the Pistons do in free agency?
Van Gundy seems resigned to losing backup center Aron Baynes, who is expected to opt out of his contract. The club believes Baynes will receive generous offers that will price them out of his market.
They may need to add another backup in that case, though Boban Marjanovic was productive when they gave him a chance to play.
More importantly, a team that finished 28th in three-point percentage desperately needs another shooter or two. The club can use its mid-level exception to address that issue, perhaps even splitting it up among two role players. Pacers swingman C.J. Miles has already been mentioned as a player they'll target in July.
Here's where things currently stand for the Pistons financially:
Guaranteed Salary
Andre Drummond ($23,775,506)
Tobias Harris ($16,000,000)
Reggie Jackson ($16,000,000)
Jon Leuer ($10,497,319)
Boban Marjanovic ($7,000,000)
Ish Smith ($6,000,000)
Josh Smith ($5,331,729) — Waived via stretch provision.
Marcus Morris ($5,000,000)
Stanley Johnson ($3,097,800)
Henry Ellenson ($1,780,800)
Michael Gbinije ($500,000) — Partial guarantee. Non-guaranteed portion noted below.1
Total: $94,983,154
Player Options
Team Options
Non-Guaranteed Salary
Darrun Hilliard ($1,471,382)2
Michael Gbinije ($812,611) — Partial guarantee. Guaranteed portion noted above.1
Total: $2,283,993

Restricted Free Agents
Kentavious Caldwell-Pope ($4,958,374 qualifying offer / $9,195,798 cap hold)
Reggie Bullock ($3,313,542 qualifying offer / $5,639,110 cap hold)
Total: $14,834,908
Cap Holds
Aron Baynes ($8,450,000) — If player option is declined
No. 12 overall pick ($2,759,280)
Beno Udrih ($1,471,382)
Total: $12,680,662
Projected Salary Cap: $101,000,000
Maximum Cap Room: $1,626,336

Taking into account their nine guaranteed salaries and cap charges for a first-round pick and two empty roster spots, the Pistons have a team salary of $99,373,664. That would involve renouncing Caldwell-Pope, Baynes, and Bullock, and still doesn't create any real cap room, making it an unlikely scenario. So unless they make a cost-cutting trade or two, the Pistons will be an over-the-cap team this offseason.
Footnotes:
Gbinije's salary becomes fully guaranteed after July 15.
Hilliard's salary becomes fully guaranteed after July 1.
Salary information from Basketball Insiders and The Vertical was used in the creation of this post. Photo courtesy of USA Today Sports Images.