With the 2017 NBA draft just two days away, it's time to reveal Hoops Rumors' own mock draft. Arthur Hill and Luke Adams of Hoops Rumors have tackled the 2017 first round, alternating picks and providing their thoughts and rationale for each selection.
Our mock draft doesn't feature trades, outside of the ones that have already been finalized, such as the Sixers' acquisition of the No. 1 overall pick. It could be an active draft night, so Thursday's night board may end up looking much different than what we've predicted here. After checking out our picks, be sure to head to the comments section to weigh in with your own thoughts, opinions, and predictions.
Let's dive in…
1. Philadelphia 76ers: Markelle Fultz, PG (Washington)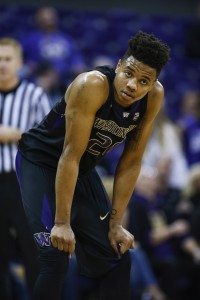 AH: This is the only sure thing on what is shaping up to be an unpredictable night. The Sixers gave up a valuable asset to acquire Fultz in hopes of forming a new young Big Three with Joel Embiid and Ben Simmons. It's hard to find a scout that isn't impressed by Fultz, who can score, defend, rebound and run the offense.
2. Los Angeles Lakers: Lonzo Ball, PG (UCLA)
LA: The Lakers landing the No. 2 pick in last month's draft lottery looked like a dream scenario for Ball and his father LaVar, who wanted Lonzo to land in Los Angeles all along. The Lakers have made Ball sweat it out since then, with Josh Jackson and De'Aaron Fox both reportedly receiving serious consideration. But I think Ball's playmaking ability and potential star power will be too much for the team to pass up.
3. Boston Celtics: Josh Jackson, SF (Kansas)
AH: The Celtics will be getting plenty of phone calls from teams that would like a shot at Jackson, Fox, or Jayson Tatum. Assuming Boston keeps the pick, the safest bet is probably Jackson, a super-athletic defender who is versatile enough to handle either forward position.
4. Phoenix Suns: Jayson Tatum, SF (Duke)
LA: The Suns have no shortage of talented guards, led by Devin Booker, and dedicated last year's two lottery picks to a pair of bigs in Dragan Bender and Marquese Chriss. This time around, it makes sense for Phoenix to add a player like Tatum, who looks like a future 20-PPG scorer on the wing.
5. Sacramento Kings: De'Aaron Fox, PG (Kentucky)
AH: Sacramento fills its most pressing need without having to trade up. Fox is blessed with lightning-like speed that he uses on both offense and defense, and he'll be the best point guard to wear a Kings uniform in many years. He cemented his reputation when he outplayed Ball in the NCAA Tournament, showing he has the skill to not only be a good NBA player but possibly a future All-Star.
6. Orlando Magic: Jonathan Isaac, F (Florida State)
LA: Orlando's new front office, led by former Raptors GM Jeff Weltman and former Bucks GM John Hammond, values length, athleticism, and versatility. Of the players available in this spot, Isaac is the one that most clearly checks all those boxes, making him a good fit for the Magic.
7. Minnesota Timberwolves: Malik Monk, G (Kentucky)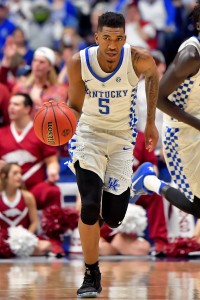 AH: Bench scoring and three-point shooting were major issues this season for the Wolves. Kentucky's Monk can help solve both of those problems, stretching defenses as well as anyone in the draft. Monk is a bit of a tweener at 6'3″, but if used properly he can be a very dangerous weapon in Minnesota.
8. New York Knicks: Frank Ntilikina, PG (France)
LA: With Monk off the board here, the Knicks are in good position to nab a point guard, and I suspect they may lean toward Ntilikina over Dennis Smith Jr.. Ntilikina, who doesn't turn 19 until December, won't make an impact immediately, but his long-term potential is tantalizing if the Knicks are willing to be patient.
9. Dallas Mavericks: Dennis Smith Jr., PG (North Carolina State)
AH: This is an excellent draft for teams in need of point guards. Dallas takes the fifth one available and gets a possible future star in Smith. Another elite player on a poor college team, Smith has drawn comparisons to Steve Francis and Stephon Marbury as offensively gifted point guards who don't do enough other things to help teams win. Dallas would be the perfect environment for a prospect like that, as coach Rick Carlisle would tutor Smith on how to become a smart and effective NBA player.
10. Sacramento Kings: Lauri Markkanen, PF (Arizona)
LA: Having scooped up their point guard of the future at No. 5, the Kings can turn their attention to the frontcourt with this pick. Markkanen's ability to play the stretch four makes him an intriguing potential complement to Willie Cauley-Stein up front for Sacramento.
11. Charlotte Hornets: Donovan Mitchell, SG (Louisville)
AH: The Pistons reportedly covet this 6'3″ combo guard out of Louisville, whose draft stock has risen considerably since the season ended. If Mitchell winds up in Charlotte, the Hornets will be getting a defensive specialist with enough of an offensive game to contribute right away. He could be an effective backup to Kemba Walker next season and eventually carve out a larger role in the Hornets' backcourt.
12. Detroit Pistons: Luke Kennard, SG (Duke)
LA: While I don't expect the Pistons to let Kentavious Caldwell-Pope get away in free agency, Kennard would provide a nice insurance policy. Even with KCP in the mix, Detroit's roster isn't stacked with three-point shooters, so Kennard would give the team another threat from the outside. He's not a complete two-way player – and may never be – but he's capable of making an immediate impact on offense.
13. Denver Nuggets: Zach Collins, F/C (Gonzaga)
AH: The freshman from Gonzaga saw limited playing time during the season — just 17.2 minutes per game — but showed off his skills as the Zags made a run to the NCAA title game. At 6'10", he can rebound, block shots and shoot from the outside, making him a promising frontcourt partner for Nikola Jokic. Trade rumors have swirled around Kenneth Faried for a couple of years, and Collins would be a nice replacement if Denver ships Faried out of town.
14. Miami Heat: OG Anunoby, F (Indiana)
LA: Pat Riley and the Heat aren't likely to worry much about a player's ability to contribute in his rookie season if his long-term potential is strong. That makes Miami a possible landing spot for Anunoby, who is expected to miss at least the first month or two of the 2017/18 season, if not more, as he recovers from a knee injury. He and Justise Winslow would make life very difficult for perimeter scorers facing the Heat.
15. Portland Trail Blazers: Harry Giles, C (Duke)
AH: Giles came to Duke last season as one of the most heralded players in the nation, but medical problems with both knees make him a risky proposition for whoever drafts him. With three picks in the first round, Portland is in a good position to gamble. With luxury tax concerns looming over next season, the Blazers are going to have to deal away some established players, and Giles, if he stays healthy, is a good candidate to take their place.
16. Chicago Bulls: Justin Jackson, SF (North Carolina)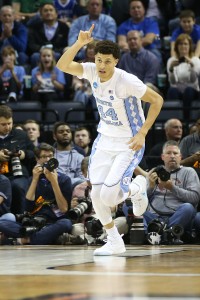 LA: The Bulls' approach to the draft may hinge somewhat on what happens – or at least what the team expects to happen – with Jimmy Butler and Dwyane Wade. If Wade doesn't return, or if the Bulls decide to trade Butler, Jackson is the sort of player who could assume some scoring responsibilities. His offensive game – particularly his three-point shot – improved greatly during his junior year at UNC.
17. Milwaukee Bucks: Ike Anigbogu, C (UCLA)
AH: Milwaukee has a nice collection of young talent, but there's not a physical, rebounding, rim-protecting center on the roster. That's a perfect description of Anigbogu, who would bring an interior toughness that the Bucks currently lack. He may never be a scorer, but he adds an important component as Milwaukee looks to continue its climb up the Eastern Conference standings.
18. Indiana Pacers: John Collins, PF (Wake Forest)
LA: With the Pacers potentially entering a rebuilding and asset-accumulating phase, it makes sense for the club to add the best player available, regardless of position. At this point in the draft, that might mean nabbing Collins, who looks capable of developing into a reliable rebounder and shot-blocker up front.
19. Atlanta Hawks: Jarrett Allen, C (Texas)
AH: The Texas freshman fits very well with the direction that the league is headed. At 6'11", he's not a physical player, but he gets up and down the court very well and will get a lot of points from pure athleticism. The Hawks will need frontcourt help even if they re-sign Paul Millsap, and Allen would be a good investment in the future.
20. Portland Trail Blazers: Terrance Ferguson, SG (Australia)
LA: There's a good chance the Blazers ultimately decide to trade this pick, but if they keep it, it would be a nice spot to roll the dice on someone like Ferguson. Reports have suggested that Ferguson is all over the place on teams' draft boards, but at his best, he looks like an explosive athlete capable of contributing on both ends of the court.
21. Oklahoma City Thunder: Justin Patton, C (Creighton)
AH: Oklahoma City will pay more than $40MM next season — and nearly $43MM in 2018/19 — to the combination of Stephen Adams and Enes Kanter. The wise move would be to trade one of them, and Patton would provide a viable replacement if that happens. The seven-footer out of Creighton averaged nearly 1.5 blocks per game during his lone season in college and showed speed and athleticism that would fit in well with OKC.
22. Brooklyn Nets: Andzejs Pasecniks, C (Spain)
LA: With two first-round picks in hand and no rush to contend immediately, the Nets can afford to invest in an international player who may not arrive stateside right away. Pasecniks wouldn't even be the most notable Latvian big man in town, but he has a solid skill-set for a seven-footer, and has seen his stock rising as of late.
23. Toronto Raptors: Isaiah Hartenstein, F/C (Lithuania)
AH: If Toronto re-signs Kyle Lowry this summer, it will be difficult to keep both Serge Ibaka and Patrick Patterson. That creates an opening for a player like Hartenstein, who brings a soft scoring touch to go with his seven-foot size. Playing in Germany, he has been on a professional strength and conditioning program and is a solid 250 pounds, making him more ready for the rigors of the NBA than some of his contemporaries.
24. Utah Jazz: Jawun Evans, PG (Oklahoma State)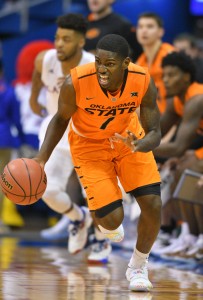 LA: The Jazz were overloaded at the point guard position in 2016/17, but George Hill and Shelvin Mack are free agents, while Dante Exum and Raul Neto are entering contract years. Presumably, not all of those players are in Utah's long-term plans, so adding a talented ball-handler like Evans wouldn't necessarily create a logjam.
25. Orlando Magic: Bam Adebayo, C (Kentucky)
AH: Like the Thunder, Orlando is top-heavy with big men, with Bismack Biyombo and Nikola Vucevic combining to make more than $29MM over each of the next two seasons. The new management team will want to cut some of that salary, creating a need for a player like Adebayo. A bit undersized at 6'9″, the freshman showed a surprising scoring touch at Kentucky, although he needs to expand his shooting range. He has no problem doing the dirty work — blocking shots, setting screens and running the floor to get baskets in transition.
26. Portland Trail Blazers: Semi Ojeleye, F (SMU)
LA: If the Trail Blazers keep all three of their first-rounders, which seems unlikely, at least one of their picks will probably be a draft-and-stash prospect. However, there aren't many highly-regarded international players in this draft class, so I have Portland opting instead for Ojeleye, a talented scorer and shooter who could make an immediate impact and provide depth if the club moves one of its more expensive swingmen.
27. Brooklyn Nets: Ivan Rabb, F/C (California)
AH: Brooklyn has shown a willingness to gamble in the first round, and Rabb, once a highly regarded prospect, is a gamble worth taking. The 6'10" sophomore might have been a lottery pick a year ago, but decided to spend another season at California and hurt his cause with a disappointing performance. The Nets need more big men who can score after trading away Thaddeus Young before the start of last season. Rabb was an effective post-up scorer in college and could be a late-round gem for Brooklyn.
28. Los Angeles Lakers: T.J. Leaf, PF (UCLA)
LA: The Lakers' current frontcourt, which features players like Julius Randle, Larry Nance Jr., Ivica Zubac, and Timofey Mozgov, lacks a player capable of really stretching the floor. Leaf, who made an impressive 46.6% of his three-pointers in his first and only college season, has that ability — and joining the Lakers would reunite him with his UCLA teammate and point guard Lonzo Ball.
29. San Antonio Spurs: Frank Jackson, G (Duke)
AH: Manu Ginobili may retire, Patty Mills is a free agent and Tony Parker may not be physically ready for the start of next season. The Spurs need backcourt help, especially if their dream of signing Chris Paul doesn't pan out. Jackson is a nice start, a 6'3″ player who can help at either guard spot and scores well off the dribble.
30. Utah Jazz: Caleb Swanigan, F/C (Purdue)
LA: Swanigan is capable of banging in the low post, having averaged 12.5 RPG last season at Purdue, and can also make an outside shot — he converted 44.7% of his threes in 2016/17. I like Swanigan's game and think he could be one of the more undervalued players in 2017's draft class. He'd be a nice depth addition for the Jazz, who may trade Derrick Favors this year or lose him in free agency next year.
Photos courtesy of USA Today Sports Images.