Kevin Durant will opt out of his contract with the Warriors this month, but he won't be going anywhere, according to Chris Haynes of ESPN.com. Haynes reports that Durant will re-sign with the Warriors in July after declining his player option and technically becoming an unrestricted free agent. Both moves – Durant's opt-out and his new deal with Golden State – had long been expected, but now we have confirmation.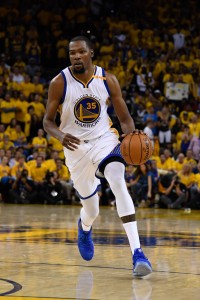 When Durant first signed with the Warriors last summer, he opted against inking a long-term deal, instead signing a two-year contract that featured a player option in year two. With nine years of NBA experience heading into the 2016/17 season, Durant was one year short of becoming eligible for the higher maximum salary for players with 10+ years of experience. He'll now be able to sign a deal that starts at 35% of the cap instead of 30%.
[RELATED: NBA Maximum Salary Projections for 2017/18]
However, as Haynes details, it doesn't appear that Durant will sign a full maximum salary contract this summer. Having controlled Durant for just one season, the Warriors don't have his full Bird rights, which would allow the team to go over the cap to sign him to a max deal. Instead, Golden State has Durant's Non-Bird rights, which allow for a 20% raise.
In order to sign Durant to a max contract starting at a projected $35.35MM, the Warriors would need to clear the necessary cap room, which would mean renouncing their Bird rights on other key free agents like Andre Iguodala and Shaun Livingston. A 20% raise on Durant's previous salary would result in a starting rate of about $31.85MM — less than the true max, but more than he would have received by exercising his player option ($27.73MM). Durant's willingness to accept a 20% raise will also give the Warriors more flexibility to re-sign Iguodala and Livingston.
[RELATED: Andre Iguodala to seriously consider suitors in free agency]
According to Haynes, all signs point to Durant signing another two-year deal with an opt-out after year one. That would allow the 28-year-old to become a free agent again next summer and sign a long-term deal with the Warriors worth the full max. At that point, Golden State would hold Durant's Early Bird rights — those Early Bird rights won't allow for a five-year contract, but Durant could get the max for four years without the team having to use cap room.
Durant's first full season in Golden State was an unequivocal success, as the former MVP was more efficient than ever, making a career-high 53.7% of his shots in 62 regular season games. He added 25.1 PPG, 8.3 RPG, 4.8 APG, and 1.6 BPG, and helped buoy the Warriors to a 16-1 playoff run, earning his first championship and the NBA Finals MVP award.
In addition to locking up Durant to a new deal in July, the Warriors are also on track to work out a new agreement with Stephen Curry. Golden State's other former MVP will be in line for a five-year contract worth a projected $205MM, since he's eligible for the Designated Veteran Extension.
Photo courtesy of USA Today Sports Images.