8:32pm: The trade is official, the Pelicans confirmed in a press release.
7:32pm: The Wizards and Pelicans have agreed to a trade that will send guard Tim Frazier to Washington, reports Michael Scotto of Basketball Insiders. According to Scotto (via Twitter), the Pelicans will receive this year's No. 52 overall pick in the deal.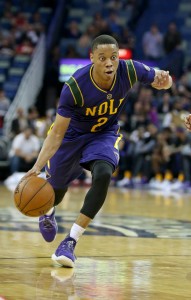 Frazier, 26, signed a two-year contract with the Pelicans last summer after impressing the team in a brief 2015/16 audition. He appeared in a career-high 65 games (35 starts) for New Orleans this past season, acting as the starting point guard early in the year when Jrue Holiday was unavailable, then re-entering the starting lineup late in the season after the Pelicans traded several guards. For the season, Frazier averaged a respectable 7.1 PPG and 5.2 APG.
Despite a solid year for the Pelicans, Frazier apparently wasn't in the team's plans going forward. New Orleans will send the Penn State product to the Wizards, who have been in the market for a point guard capable of backing up John Wall after Brandon Jennings and Trey Burke underwhelmed in 2016/17.
Frazier will be an inexpensive bench option for the Wizards, who will be on the hook for his modest $2MM salary next season. Although Washington is currently well over the cap, the team can take on Frazier using a traded player exception created in a February deal with the Nets.
That trade exception, worth approximately $2.5MM, will be used to absorb Frazier's current salary of $2.09MM. Meanwhile, the Pelicans will create a TPE worth Frazier's salary, though that exception will disappear in July if the team uses cap room.
With Frazier no longer in the picture, the Pelicans have two guards – E'Twaun Moore and Quincy Pondexter – on guaranteed contracts for 2017/18, with two more – Jordan Crawford and Quinn Cook – on non-guaranteed deals. Fortifying the backcourt and potentially re-signing Holiday will be top priorities for New Orleans this summer.
Photo courtesy of USA Today Sports Images.