Three weeks into the 2017/18 NBA league year, no players eligible for rookie scale extensions have signed new deals. However, that doesn't mean that none of those fourth-year players are engaged in negotiations with their respective teams.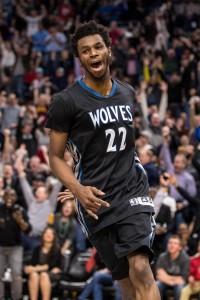 Timberwolves head coach and president of basketball operations Tom Thibodeau confirmed this week that Minnesota is indeed working on a new contract for Andrew Wiggins, who is one of those 21 players eligible for a rookie scale extension. The No. 1 overall pick from the 2014 draft and a former Rookie of the Year, Wiggins has easily been the highest-scoring player of his draft class since entering the NBA, and is one of the most worthy candidates for a new deal.
While Wiggins is a good bet to sign a contract extension with Minnesota this offseason, the length and overall value of that new deal remain up in the air. Reports this week from The Star Tribune and ESPN rightly note that Wiggins is eligible for a five-year extension worth just shy of $148MM, based on current salary cap projections for the 2018/19 season. However, it's not clear if Thibodeau himself confirmed that a five-year deal is the probable outcome.
Neither the Star Tribune nor the ESPN report cites any sources saying that the two sides are discussing a five-year deal, and there are no quotes from Thibodeau suggesting as much. ESPN's report doesn't even include a byline. Still, while it's possible that it's just speculation, the Tribune's Jerry Zgoda is very plugged in on the Wolves, so if he suggests a five-year extension is in play, it's certainly been considered by the organization.
If a team wants to sign a player entering the final year of his rookie contract to a five-year extension, that means making him a "Designated Player" and offering him a maximum salary deal. There's some wiggle room in regard to what constitutes a "maximum" salary for Wiggins — language could be included in the contract that ensures he receives a max worth up to 30% of the cap starting in 2018/19 if he makes an All-NBA team, as opposed to 25% if he doesn't. But even if Wiggins doesn't earn All-NBA honors, a max deal would still start at a projected $25.5MM in '18/19, increasing by 8% annually up to $33.66MM by 2022/23.
That would be a massive investment for a Timberwolves team that also has to consider Karl-Anthony Towns' impending payday. And while it's possible that the franchise will ultimately be willing to roll the dice on that sort of five-year max for Wiggins, I don't think it's a lock.
Star players who receive five-year maximum salary rookie scale extensions from their teams often complete those deals very quickly when the new league year gets underway. In recent offseasons, Kyrie Irving (2014), Anthony Davis (2015), and Damian Lillard (2015) all agreed to max extensions before the July moratorium came to an end. If a maximum salary offer is on the table, little negotiating is required, and those deals generally don't take long to finalize.
Additionally, it's worth considering that 2016's rookie scale extension class didn't include a single five-year, maximum salary deal. C.J. McCollum, Steven Adams, and Rudy Gobert were among the candidates for max extensions who ended up accepting a little less. Most notably, Giannis Antetokounmpo signed a four-year, $100MM contract that fell short of the max. Antetokounmpo is only two months older than Wiggins and is a far more complete player at this point in his career, so the Wolves' front office may use that deal as a point of comparison in negotiations with Wiggins.
Conversely, Wiggins' camp should be able to make a pretty strong case that he's worth a maximum salary investment. Few young players in the NBA are as talented on offense as Wiggins, who has increased his PPG from 16.9 to 20.7 to 23.6 over the course of his three NBA seasons. He even added a more reliable three-point shot to his arsenal in 2016/17, making a respectable 35.6% of his long-distance attempts.
Of course, as good as Wiggins is on offense, his performance in many other areas of the game has been lacking. In particular, his play on defense last season was frustrating — the Timberwolves' defensive efficiency numbers with Wiggins on the court were substantially worse, and the eye test confirmed that the former No. 1 pick was getting beat far too often.
Additionally, while Wiggins is hardly expected to be the Wolves' top distributor or rebounder, his lack of production in both areas was noticeable. No player in the NBA played more overall minutes last season than Wiggins, but his 4.0 RPG average was modest for a 6'8″ forward, and his career-high 2.3 APG average was also low for a player with the ball in his hands so often.
Although Wiggins has been a fairly one-dimensional player through the first three years of his career, his offensive ability and his age are both significant factors working in his favor. Even if he never develops into an above-average defender, he looks capable of averaging 25+ PPG, and there simply aren't many players in the NBA who have the ability to score like that night in and night out.
Wiggins' age, meanwhile, suggests that his best is yet to come, and a contract extension with the Wolves figures to cover many of his prime years. Wiggins' new teammate Jimmy Butler serves as a tantalizing point of comparison for the 22-year-old. When he was Wiggins' age, Butler was in the midst of struggling through a rookie season in which he only played 359 total minutes.
Butler, who didn't enter the league as fully formed on offense as Wiggins, also didn't post great rebounding or assist numbers right away — in his first season as a full-time starter, the ex-Bulls forward averaged 4.9 RPG and 2.6 APG in 38.7 MPG. By comparison, last season, in fewer minutes per game, Butler posted 6.2 RPG and 5.5 APG to go along with impressive production on both offense and defense.
Not all players develop like Butler did, but Wiggins has the advantage of working with the same coach the three-time All-Star played under for several seasons. If Thibodeau's defensive-minded approach rubs off on Wiggins, he's capable of becoming one of the game's elite players and earning every dollar of a maximum salary extension.
Right now though, that sort of commitment would have to be made with confidence in Wiggins' ability to develop into a more complete all-around player, since the current version of the young forward probably isn't worth a max investment.
Photo courtesy of USA Today Sports Images.