Veteran big man Udonis Haslem will return to Miami for at least one more season, according to Shams Charania of The Vertical, who reports (via Twitter) that Haslem has signed a one-year, minimum salary contract with the club. Heat owner Micky Arison had hinted at the deal earlier today by tweeting "UD" alongside a celebratory emoji.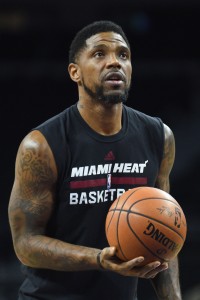 Haslem made his NBA debut in 2003 and has been a member of the Heat ever since, appearing in nearly 1,000 total games for the club, between the regular season and the playoffs. Although he has averaged 25.7 minutes per game for his career in the regular season, the 37-year-old has seen his role in Miami decline significantly over the last couple seasons. Since the start of the 2015/16 campaign, Haslem has appeared in 53 regular season contests, averaging 7.4 MPG.
Despite his dwindling role on the court, Haslem remains a key veteran presence on Miami's bench. A report from a couple weeks ago suggested that the Cavaliers had the big man on their radar and would likely have a conversation with him, but a return to the Heat was always the expected outcome.
Among active NBA players, only Dirk Nowitzki (Mavericks), Tony Parker (Spurs), Manu Ginobili (Spurs), and Nick Collison (SuperSonics/Thunder) have been with a single franchise for longer than Haslem, who will return for his 15th season with the Heat.
Haslem's minimum salary deal won't have an impact on the Heat's spending flexibility. The team is out of cap room but still has its $4.328MM room exception available to use on a free agent at some point during the 2017/18 league year.
Photo courtesy of USA Today Sports Images.