JULY 10th, 6:00pm: The signing is official, according to a team press release.
JULY 6, 7:36pm: The Kings have agreed to a one-year, $8MM deal with Vince Carter, Adrian Wojnarowski of ESPN.com reports (Twitter link).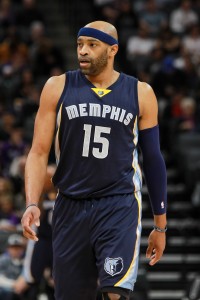 The 40-year-old swingman previously said he would like to play two more seasons in the league. Many assumed he would opt to join a contender in hopes of winning a ring. Instead, he'll join Sacramento and become a veteran mentor for its young squad.
Carter isn't the only veteran the Kings have added this week. George Hill and Zach Randolph both agreed to come to Sacramento. The organization has eight players on rookie contracts, as ESPN's Bobby Marks tweets, so balancing the roster with veterans seems to be the team's latest priority.
Carter played a key role for Memphis during the final year of a three-year contract last season. He averaged 8.0 points, 3.1 rebounds and 1.8 assists per game.
Photo Courtesy of USA Today Sports Images