Kentavious Caldwell-Pope agreed to a deal with the Lakers on Tuesday night, which means one more team with cap room has used all its space, and yet another one of the top remaining free agents is off the board. We're not yet two weeks into the new NBA league year, but for clubs still in the market for free agents, the viable options are dwindling.
Listed below are some of the top free agents still available, by position. This list isn't exhaustive or definitive, so you can check out our full list of current free agents for a more complete idea of which players remain unsigned.
Point Guards: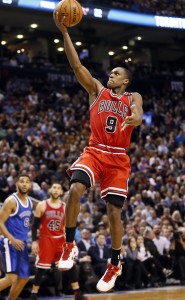 Derrick Rose and Rajon Rondo are the most noteworthy veterans left on the point guard market, and it's starting to look like both players may have to accept substantial pay cuts. Rose, in particular, has no clear path to a deal worth anywhere near the $21.3MM+ he earned in 2016/17.
Elsewhere, Ty Lawson enjoyed a decent bounce-back season last year and could provide solid backup minutes, while Aaron Brooks was one of the better shooters at the position, making 37.5% of his three-point attempts.
C.J. Watson, Ramon Sessions, Brandon Jennings, and Deron Williams are coming off down years – or, in Williams' case, a poor postseason showing – but could still be reliable backups. Greivis Vasquez, Mario Chalmers, Norris Cole, and Jarrett Jack were non-factors last season due to injuries, but may still have a place on an NBA roster if they're healthy.
Trey Burke and Tyler Ennis have yet to deliver on their draft promise, but are still young (24 and 22, respectively). And finally, Sergio Rodriguez may return overseas, but could be an NBA fit if he's willing to accept a reduced role.
Shooting Guards:
The shooting guard market wasn't particularly robust entering the offseason, but there are still some interesting names left here. The most noteworthy one is Jonathon Simmons, though he remains a restricted free agent, meaning it will be challenging to pry him away from the Spurs.
Teams in need of scoring help may target a veteran like Monta Ellis or Leandro Barbosa. A club focusing on perimeter defense should have plenty of interest in Tony Allen. A team looking for a younger player with upside may zero in on Ian Clark.
Meanwhile, there's also no shortage of intriguing shooters available. Arron Afflalo's production was down overall in 2016/17, but he converted 41.1% of his three-point attempts, and made at least 1.0 3PG for the eighth straight season.
Randy Foye and Anthony Morrow were inconsistent from deep, but have been effective outside shooters for most of their respective careers — prior to last season, Foye had made 36.9% of his career three-pointers, while Morrow had made a blistering 42.5%. Brandon Rush is also a career 40.2% three-point shooter.
Rodney Stuckey and Gerald Henderson may also hold some appeal to teams in need of wing depth, while the "This is 40" club includes Manu Ginobili and Jason Terry, both of whom will celebrate their 40th birthday before the 2017/18 season begins. Ginobili is a strong bet to re-sign with the Spurs if he continues his career though.
Small Forwards:
The small forward pickings are somewhat slim. Shabazz Muhammad's scoring potential and his age (24) make him an interesting option, but his inability to distribute the ball is a red flag. K.J. McDaniels, who is also just 24, has flashed some upside too, but has yet to really deliver on that potential.
Teams looking for a shooter with some size should have interest in Luke Babbitt (.406 career 3PT%) or Mike Dunleavy (.402 3PT% since 2010/11). Gerald Green is also capable of creating some instant offense off the bench, though he's not as reliable an outside shooter. On the other side of the ball, Luc Mbah a Moute is one of the better perimeter defenders available, but doesn't give you much on offense.
The small forward market also features a number of veterans who may or may not have a couple more seasons left in them, including Matt Barnes, Mike Miller, James Jones, and Metta World Peace. Those players have had strong careers, but I'd be surprised if they all get NBA contracts this year.
Power Forwards:
A pair of restricted free agents sit atop the power forward board, though JaMychal Green and Nikola Mirotic appear likely to return to the Grizzlies and Bulls, respectively. Of the two, Green might be more attainable, since a lucrative offer sheet could push Memphis close to the tax line, but it would probably take an overpay to land him.
On the unrestricted free agent market, there are a number of veterans that won't provide much upside, but could still be useful frontcourt depth pieces. Brandon Bass, Kris Humphries, Lavoy Allen, Jonas Jerebko, and David Lee fit this bill. Udonis Haslem is also on the market, but he doesn't play much anymore, and figures to return to the Heat anyway.
Former lottery picks Michael Beasley, Thomas Robinson, and Derrick Williams are somewhat intriguing, even if they'll likely never meet expectations based on their initial draft positions. Donatas Motiejunas and Terrence Jones are also former top-20 picks who are still young enough to improve a little. Jared Sullinger is coming off a season plagued by injuries, but was a solid rebounder before that and is still just 25.
Teams in the market for a stretch four may consider Ersan Ilyasova, and – somewhat surprisingly – Dante Cunningham. After missing 36 of 38 three-point attempts during his first six NBA seasons, Cunningham has developed an outside shot in the last two years. In 2016/17, he knocked down an impressive 39.2% of his outside attempts, converting 1.1 per game, which makes him a much more interesting option.
Centers: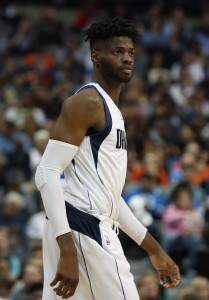 Once again, the most noteworthy names at this position can be found on the restricted free agent market. Nerlens Noel and Mason Plumlee are two of the top players still on the board at any position, and Alex Len – who just turned 24 – also has some promise. Noel is a near-lock to remain in Dallas, and I'd expect the others to stay put too, barring an unexpectedly aggressive offer sheet or a rescinded qualifying offer.
Outside of the RFAs, Pau Gasol and Willie Reed look like the most interesting centers on the market, though Gasol is widely expected to re-sign in San Antonio. Andrew Bogut, Festus Ezeli, and Tiago Splitter have been productive in the past, but health will be a key factor in their ability to catch on with a team and contribute in 2017/18 — of the three, I view Bogut as the most likely to have a role somewhere.
Marreese Speights and Roy Hibbert are solid veterans who should figure to catch on as backups at some point. Jordan Hill would have been in that category before last season too, but he only played 47 total minutes in Minnesota last year.
Of the under-30 set, JaVale McGee appears to be drawing the most interest. However, I'd expect Tarik Black and Tyler Zeller to get some attention from teams looking for depth. We'll also have to wait and see if Larry Sanders gets another shot after playing just 13 total minutes for the Cavs in last year's return to the NBA.
Photos courtesy of USA Today Sports Images.