July 13: The signing is official, according to the team's website.
July 11: The Lakers have reached an agreement to sign free agent shooting guard Kentavious Caldwell-Pope, according to Brian Windhorst of ESPN.com (Twitter link). Windhorst reports that Caldwell-Pope will receive a one-year, $18MM deal from the club.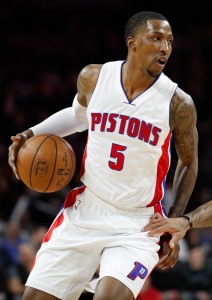 [RELATED: 2017 NBA Free Agent Tracker]
It has been an unusual offseason for Caldwell-Pope, who entered the summer with aspirations of a long-term maximum salary contract, or at least something close to it. However, after they signed Langston Galloway and traded for Avery Bradley, the Pistons determined that Caldwell-Pope was no longer in their future plans, identifying Bradley as the franchise's shooting guard of the future instead.
A report last week suggested that the Pistons were at one point willing to go up to $80MM over five years for Caldwell-Pope, which "wasn't even close" to what he was seeking. Unable to find common ground with KCP, Detroit renounced his rights, putting the Lakers in play as a potential suitor. Los Angeles has been unwilling to offer more than one-year contracts this month, and while that wouldn't have been enough to pry Caldwell-Pope away as a restricted free agent, he was apparently willing to settle for a one-year "balloon" deal as a UFA.
By accepting a one-year contract with the Lakers, Caldwell-Pope should have the opportunity to take on a key scoring role with the team in 2017/18, and will set himself up for a return to unrestricted free agency a year from now.
Although the Georgia native has shown promise as a two-way wing, his production hasn't really increased since 2014/15. Last season, he averaged a modest 13.8 PPG and 3.3 RPG, with a .399/.350/.832 shooting line. At age 24, he's a very solid defender, and if he can show an improved offensive game, he'd be in position for a much bigger payday in 2018.
As for the Lakers, they'll add a promising young wing on something of a trial basis, maintaining their cap flexibility for next summer, when stars like LeBron James, Paul George, and others will reach free agency. While the Lakers figure to prioritize those All-Star free agents, Caldwell-Pope could be a nice Plan B for the team if he plays well in his first season in L.A.
The Lakers entered the day with about $17MM in cap room, so based on the terms of Caldwell-Pope's deal, it's possible the club will waive David Nwaba – who has a non-guaranteed contract – or another player to create a little more space. There has been no indication yet of a corresponding roster move, however.
Once they make the Caldwell-Pope signing official, the Lakers will have their $4.3MM room exception available for free agents. According to Adrian Wojnarowski of ESPN (Twitter link), the team is still trying to land Rajon Rondo, though it's not clear if that room exception would be enough for the veteran point guard.
Photo courtesy of USA Today Sports Images.