JULY 7, 11:39am: The Raptors have officially signed Lowry to his new deal, the team announced today in a press release.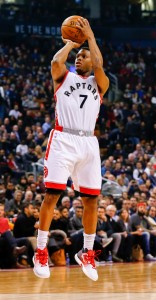 "Kyle has been a valuable part of our team's success the past five years," Raptors president Masai Ujiri said in a statement. "He has grown as a player and person during his time in Toronto and we are excited that he wants to be here to help us continue building a championship program."
JULY 2, 4:24pm: Lowry's new deal with the Raptors will be for three years and $100MM, according to Michael Scotto of Basketball Insiders (Twitter link). That's just a little less than a maximum salary deal for the veteran point guard, and it includes incentives, tweets Sam Amick of USA Today.
4:19pm: The Raptors and Kyle Lowry have agreed to a new deal. Terms of the agreement aren't yet known, but Lowry has announced in a piece for The Players' Tribune that he has decided to remain with Toronto.
"I'm coming back to Toronto because my heart is telling me that it's home — and because staying home, for me and my family, feels like the right thing to do," Lowry writes. "My heart is telling me that this is the best city in the world, with the best basketball fans in the world. It's telling me that the Raptors can be a championship-level team, sooner than later. And I'll be honest (and don't hate) — it's telling me that I've still never had poutine."
[RELATED: 2017 NBA Free Agent Tracker]
Lowry, 31, entered this summer as one of the top free agents available at point guard or any position. He's coming off his third straight All-Star season, having averaged a career-best 22.4 PPG to go along with 7.0 APG, 4.8 RPG, 1.5 SPG, and a shooting line of .464/.412/.819. The Philadelphia native was limited to 60 games due to a broken wrist and missed Toronto's last two postseason contests due to an ankle injury, but will be 100% for the start of the 2017/18 season.
While it wasn't a sure thing that Lowry would re-sign with the Raptors this season, many of his other potential suitors addressed their point guard position in other ways within the last week or two. For instance, the Sixers drafted Markelle Fultz, the Nets acquired D'Angelo Russell in a trade, and the Timberwolves committed to sign Jeff Teague.
Those moves – and others – all nudged Lowry back in the direction of Toronto, and his return looked more than ever like a lock when Serge Ibaka reached an agreement with the club earlier today. Lowry and Ibaka share an agent, ASM's Andy Miller, and it made a lot of sense for the team to re-sign one player if the other returned, since the Raps wouldn't have any cap room to sign a suitable replacement.
With both Lowry and Ibaka back in the fold, the Raptors project to be well over the luxury tax line, but they're exploring ways to reduce team salary. The club is said to be discussing a Cory Joseph trade with the Pacers, which would move Joseph's $7.63MM salary in return for draft-pick compensation. DeMarre Carroll and Jonas Valanciunas are also trade candidates, though it would be virtually impossible to move Carroll without attaching an asset or two to him.
Lowry and Ibaka both agreed to three-year deals, which puts them on track to expire in the summer of 2020. That's the same offseason that DeMar DeRozan will have the chance to opt out and return to the free agent market as well, so it looks like Toronto aims to contend with its same core for at least the short-term future. The Raps will have the opportunity to potentially reconsider their options by that summer of 2020.
The development of some of the Raptors young players could be key in determining whether or not the club can take the next step and truly challenge for a spot in the NBA Finals. Delon Wright and Fred VanVleet, in particular, could be asked to take on larger roles backing up Lowry if Joseph is dealt. Norman Powell also figures to play more minutes with P.J. Tucker headed to Houston, while Jakob Poeltl and Lucas Nogueira could see more playing time in the frontcourt if Patrick Patterson departs and/or Jonas Valanciunas is traded.
Photo courtesy of USA Today Sports Images.