JULY 18, 1:05pm: The Spurs have officially signed Lauvergne, the team confirmed today in a press release.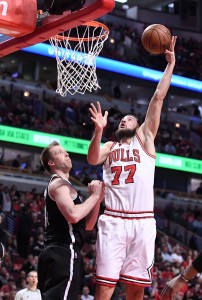 JULY 10, 2:00pm: The Spurs have reached a two-year contract agreement with free agent big man Joffrey Lauvergne, reports Shams Charania of The Vertical. The news comes on the heels of the Bulls withdrawing Lauvergne's qualifying offer, making him an unrestricted free agent, which will allow him to sign outright with San Antonio.
Lauvergne, a second-round pick in 2013, made his NBA debut for the Nuggets in 2014 and spent two years with the franchise before being sent to the Thunder in a trade last August. He was flipped again at this year's trade deadline, heading to Chicago as part of a trade package in a deal that saw Oklahoma City land Taj Gibson and Doug McDermott.
Lauvergne, a 6'11" forward/center, looked like a player on the rise in 2015/16, averaging 7.9 PPG and 4.9 RPG with a .513 FG% in 59 games (17.6 MPG) for the Nuggets. However, he took a step backward last season. For the year, he recorded just 5.4 PPG and 3.6 RPG with a .440 FG% in 70 contests.
Despite his very modest production for the Bulls down the stretch, Lauvergne initially received a qualifying offer worth about $2.14MM from the team, which made him a restricted free agent. However, Chicago apparently decided that the big man wasn't in the team's long-term plans, allowing him to reach the open market with no restrictions over the weekend.
While details of the Spurs' agreement with Lauvergne aren't yet known, the club already used its full mid-level exception on Rudy Gay, leaving the $3.29MM bi-annual exception and the minimum salary exception for other free agents. San Antonio had been in need of some frontcourt depth, with Dewayne Dedmon, David Lee, and Pau Gasol all on the free agent market, though Gasol is expected to re-sign.
Photo courtesy of USA Today Sports Images.