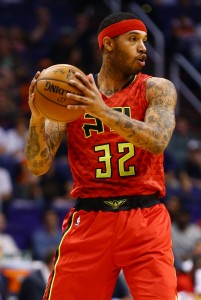 JULY 8, 1:25pm: Mike Scott has officially signed a 1-year, $1.7MM deal with the Wizards, tweets Candace Buckner of the Washington Post.
JULY 4, 8:51am: Free agent forward Mike Scott has reached a veterans minimum agreement with the Wizards, tweets Adrian Wojnarowski of ESPN.com.
The five-year veteran is coming off an injury-plagued season that limited him to just 18 games. He missed the start of the year after having surgery on his left knee and didn't take the court until mid-December. He put up career-worst numbers with 2.5 points and 1.5 rebounds in limited playing time and was traded to Phoenix at the February deadline. The Suns waived him the following day.
Scott, who will turn 29 this month, is the latest addition to the Wizards' bench. They reached a deal with Jodie Meeks on Sunday, and Candace Buckner of The Washington Post speculates that the 15-man roster will be more or less set if Otto Porter re-signs.
The agreement with Scott puts the Wizards right on the edge of the cap, with $98.8MM in guaranteed contracts, Bobby Marks posts on ESPN Now. A max deal with Porter would move Washington $7.2MM over the tax line, creating a penalty of $11.4MM.