Here are some of the most noteworthy stories from the past week at Hoops Rumors:
Timberwolves owner Glen Taylor wants assurances from Andrew Wiggins before offering the forward a max extension. Taylor wants to hear these promises in a face-to-face meeting with Wiggins, who was Minnesota's second-leading scorer last season. If Wiggins is maxed out, the T-Wolves will have five players on the current roster making at least $14MM for the 2018/19 season.
Zach Randolph was arrested on a felony charge of marijuana possession with intent to sell. The embattled big man was signed by the Kings last month to be in part a mentor to the younger players. Randolph, 36, moved from the starting lineup to the bench in Memphis last season, but was still very productive, averaging 14.1 PPG and 8.2 RPG in just 24.5 minutes per game.
The Knicks have signed Michael Beasley to a one-year deal.  New York hopes that the signing will bring some much-needed scoring punch off the bench. In 56 games for the Bucks last season , the veteran forward averaged 9.4 PPG with a career-best .532 FG% and .419 3PT%. Beasley was selected one spot after Derrick Rose in the 2008 draft, but has yet to live up to his pre-draft billing.
Ben McLemore is expected to be sidelined for 12 weeks. As a result of the injury that was incurred during a pick-up game, McLemore may not be ready to begin the regular season. The shooting guard signed a two-year contract with the Grizzlies last month.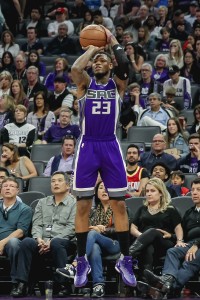 The Knicks and Rockets have re-engaged on trade talks involving Carmelo Anthony. A third team in a potential trade would be needed since the Knicks do not have interest in Ryan Anderson. According to Adrian Wojnarowski, Anthony could begin the season in a Knicks' uniform.
---
Ten More Stories