An unusually high number of notable restricted free agents remain unsigned as August nears its halfway point, and the rumor mill has been quiet on those players as of late. After the league-wide free agent spending spree in the summer of 2016, many of these RFAs likely entered free agency this year anticipating huge paydays, and were disappointed to see many potential suitors use up their cap room quickly.
Here's the current list of restricted free agents still on the board: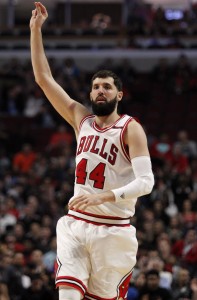 The updates on those players have been few and far between over the last month or so. Early in free agency, Green's agent seemed pessimistic about his client remaining in Memphis, suggesting that the Grizzlies seemed to be going in a "different direction." However, with no offer sheet yet in hand, Green still looks like a decent bet to stay with his current team.
Plumlee, meanwhile, may not have as clear as role as the Nuggets initially envisioned when they acquired him, since the team nabbed Paul Millsap in free agency. Denver gave up a lot in the trade for Plumlee and presumably still wants to bring him back as Nikola Jokic's backup at center. But with Millsap making approximately $30MM annually and Jokic due for a mega-deal of his own as soon as next summer, the Nuggets may be reluctant to invest heavily in Plumlee as well.
As for Len, Mirotic, and Noel, there has been little indication that they're going anywhere — all three of their respective teams still have a ton of cap flexibility, and could comfortably match virtually any offer sheet they're dealt. Those offer sheets just don't seem to be out there right now, since almost every team with the ability to make a big offer has its own RFA to worry about.
Besides Phoenix, Chicago, and Dallas, there are a small number of teams that could make an aggressive offer for a restricted free agent. The Sixers are really the only other club with a significant amount of leftover cap room, and based on their one-year agreements with J.J. Redick and Amir Johnson, it appears Bryan Colangelo and company want to avoid multiyear commitments that would compromise their 2018 cap space.
So what's next for these restricted free agents? October 1 is the next key date to watch. That's the day that each RFA's qualifying offer will expire. Up until that point, any of those five players could accept the qualifying offer and play on a one-year deal, opting to try his luck at the open market again in 2018 as an unrestricted free agent. Green, Len, Mirotic, Noel, and Plumlee all figure to still be looking for longer-term deals, but it wouldn't surprise me to see one or two of them signs that QO.
If an RFA situation remains unresolved beyond October 1, the player is still restricted, but no longer has the option of accepting his qualifying offer. With the regular season fast approaching at that point, players don't have much leverage, and a situation can go south in a hurry.
A year ago, it was December before Donatas Motiejunas finally found an offer sheet, but that lucrative four-year deal with the Nets fell through after Houston matched it — the Rockets and Motiejunas couldn't agree on incentive details, the forward skipped his physical, and the two sides eventually parted ways. Motiejunas, who later signed for the minimum and is now out of the NBA, could act as a cautionary tale this fall for RFAs who don't yet have a deal when training camps begin.
Photo courtesy of USA Today Sports Images.