After slowly establishing himself as one of the most efficient, low-usage big men in the NBA, Jusuf Nurkic got his first consistent opportunity to shine when the Nuggets shipped him off to the Trail Blazers partway through the 2016/17 campaign.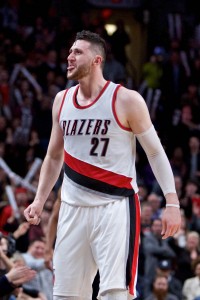 And shine he did.
It's not Nurkic's fault that Nikola Jokic caught up to him and surpassed him on Denver's depth chart last season but, regardless, it was Nurkic's value that seemed to dissipate over night. Fast forward to the end of the campaign and there's more confusion than ever as to what the bruising low post threat really is worth in today's NBA.
One can't exactly blame the Nuggets for getting impatient and trading Nurkic for pennies on the dollar — there were clearly elements of addition by subtraction at play considering Nurkic's reported attitude regarding his demotion in Denver. Still, they gave away a possible star to a division rival in exchange for Mason Plumlee, a 26-year-old with a considerably more modest ceiling.
Nurkic, just 23 years old, is entering the fourth year of his career this season and is thus eligible for a rookie extension prior to the October 16 deadline. There's no consensus, however, about whether the Trail Blazers should rush out to sign him to one.
With few reported updates, other than Blazers general manager Neil Olshey saying that he doesn't typically talk about ongoing contract negotiations, there's no clear sense as to whether locking Nurkic in long-term is even a priority of the organization.
On one hand, Nurkic hit the ground running in Portland, averaging 15.2 points and 10.4 rebounds per game over the course of his 20-game stint with the Blazers post-trade.
The inflated numbers aren't just the byproduct of a particularly motivated young player either, Nurkic's 18.7 points and 12.8 rebounds per 36 were only slightly higher than the 15.3 points and 12.0 rates he posted through two and a half years with Denver.
So, yes, Nurkic knows how to fill a stat sheet and, even better, his production contributed to tangible success with his new club. In his taste of action with Portland, the Blazers went 14-6. As Joe Freeman of the Oregonian wrote at the time, the club soared with Nurkic in the lineup, his presence solidifying the squad's offerings on both ends of the court.
Alas, the sudden arrival of the dominant young big man was, in at least one sense, too good to be true. In late March, Nurkic fractured his right leg and missed the remainder of the 2016/17 season, including the club's four-game sweep at the hands of the eventual NBA champion Warriors.
Whether the non-displaced fibular fracture was the result of a seven-footer in supposedly sub-optimal condition being suddenly thrust into the heaviest workload of his career or an omen of things to come, the fact that he missed the last chunk of the season is a concern.
While Nurkic's injury isn't as catastrophic as the words "out for the remainder of the season" may seem – a similar issue set Steve Nash back a total of 24 games… at age 38 – this isn't Nurkic's first significant injury and that's something that could impact whether the Blazers do or do not offer him a sizable contract earlier than they need to.
If Nurkic can return to the court healthy and put forth 70-plus games at the same standard as last season, it's hard to imagine him having any trouble finding suitors as a restricted free agent next summer. In that regard, locking him in now could potentially save the organization money in the long run.
The risk, however, may not be worth it.
A more pragmatic approach would be to wait for Nurkic's borderline cult-like following to normalize over the course of a full season. Then with a larger sample size on which to base expectations, Olshey and company could decide whether or not that's a direction they want to take the franchise.
Worst case scenario, Nurkic struggles to stay on the court next season and Portland walks away unscathed. Best case scenario, Nurkic Fever continues to sweep the Pacific Northwest and the Blazers are socially obligated to max out a 24-year-old franchise talent that already thrives with the teams existing star backcourt just as they hit their respective primes.
There are worse fevers to succumb to.
Photo courtesy of USA Today Sports Images.