SEPTEMBER 18, 1:23pm: The signing is official, the team announced on its website.
SEPTEMBER 13, 5pm: The Heat are finalizing a four-year contract extension with Josh Richardson, according to ESPN's Adrian Wojnarowski (Twitter link), who reports that the deal will be worth $42MM. While Richardson was a second-round pick in 2015 and wasn't eligible for a rookie scale extension this offseason, the league's new CBA made him eligible for a veteran extension until opening night.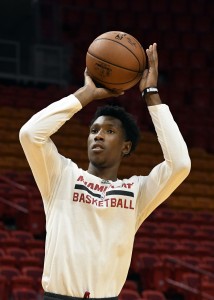 According to Barry Jackson of The Miami Herald (Twitter link), Richardson's agents met with Heat president Pat Riley about two weeks ago and the team expressed a willingness to give Richardson the maximum offer. Under the terms of the CBA, that max amount would mean a starting salary of 120% of the estimated annual salary.
Richardson's new deal will go into effect for the 2018/19 season and would run through 2022 if he plays out the entire contract. However, the final year of the extension, for the 2021/22 campaign, is a player option, according to Jackson, who provides a year-by-year breakdown of the pact (Twitter links).
Richardson's cap for 2017/18 won't be impacted by the new deal — he remains on track to earn the minimum $1,471,382 this season. However, as ESPN's Bobby Marks (ESPN Now link) details, the Heat now project to sit roughly $5.5MM below the tax with $117.5MM on the books for 2018/19. That figure could increase to approximately $119.6MM if Dion Waiters and Kelly Olynyk hit games-played bonuses in their respective contracts, according to Marks.
Richardson broke out as a rookie, evidenced by his 46.1% mark from behind the arc. He slumped as a sophomore though, in part because of ankle injuries. In 105 career games with the franchise to date, the shooting guard has scored 8.4 points per game and nearly averaged a steal per contest.
Sources tell Jackson that Richardson will be given the opportunity to compete with Justise Winslow and Rodney McGruder for the Heat's starting small forward job this fall.
Photo courtesy of USA Today Sports Images