SEPTEMBER 19: The signing is official, Bill Oram of the Southern California News Group relays on Twitter.
SEPTEMBER 18: The Lakers have reached an agreement with free agent center Andrew Bogut, agent David Bauman tells Shams Charania of The Vertical. According to Charania, Bogut will sign a one-year contract with Los Angeles. David Aldridge of TNT adds (via Twitter) that the deal will be worth the veteran minimum, while ESPN's Ramona Shelburne tweets that it'll be partially guaranteed.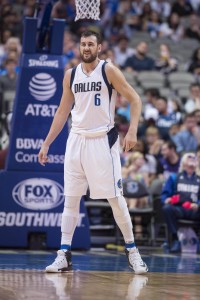 Bogut, who will turn 33 in November, began last season with the Mavericks, appearing in 26 games (21 starts) for Dallas before being traded to the Sixers in a deadline deal. He was subsequently bought out by Philadelphia and joined the Cavaliers as a free agent, but fractured his tibia in his first game with his new team, ending his season.
Bauman suggested last week that a CT scan on Bogut's tibia showed "complete healing," with a radiology report showing that the center's leg is "solidly united." With a medical green light, Bogut was expected to find a new NBA home quickly, and ultimately landed with the Lakers, who will add him to a promising frontcourt that already features Brook Lopez, Julius Randle, Larry Nance Jr., Ivica Zubac, and rookies Kyle Kuzma and Thomas Bryant.
[RELATED: Lakers' depth chart at RosterResource.com]
Even if he's fully healthy heading into the 2017/18 season, Bogut likely won't make a major on-court impact at this point in his career — since the start of the 2012/13 season, he has been a role player, averaging 5.9 PPG in 23.5 minutes per contest. Still, he has provided reliable rim protecting and rebounding, chipping in 1.6 BPG and 8.2 RPG during that stretch, so he could have some value in L.A.'s rotation.
According to Aldridge (via Twitter), the Timberwolves made a "major pitch" to Bogut, and the Celtics and Cavaliers were in the mix too. However, the former first overall pick liked L.A.'s "vibe," not to mention the opportunity to reunite with head coach Luke Walton, who played a part in recruiting the ex-Warrior (Twitter link). While Boston was frequently linked to Bogut during his free agency, Adam Himmelsbach of The Boston Globe (Twitter link) suspects the Celtics didn't push overly hard to land him.
The Lakers entered the day with 19 players under contract, so their roster will be at the 20-man offseason maximum when they finalize their agreement with Bogut.
Photo courtesy of USA Today Sports Images.